These days, unless a brand specifically states that it didn't use Photoshop, it's safe to assume that every ad you see has been given a hefty dose of retouching. Gisele Bundchen, for one, is not too happy about that.
Fashionista caught up with the world's "most powerful" model at last night's BLK DNM party, where she and designer Johan Lindeberg launched her latest ads for the company, lensed by the designer himself. Fortunately, the two seemed to hit it off like gangbusters, and Lindeberg even had Gisele go without makeup or hairstyling for the shoot (though it's a bit hard to tell, since the only shot we've seen doesn't show her face).
And going au naturel, the supermodel said, is the best way to go:
"I loved his approach because I feel like women should be really real and raw and it doesn't really happen anymore [in fashion photographs]. I love that feeling of, you know, we are women, we are so different, our imperfections are what make us unique and beautiful. He gets that. He's not trying to retouch you or put a pretty light on you. He's not like 'you gotta look a certain way.' He's like, 'you are you' so now I'm gonna just be here with a camera, so express yourself how you like."
Of course, as a top model, Gisele is well-versed in the art of Photoshop detection. She even once specifically requested that her baby bump be taken out of a photo in a set of London Fog ads to keep her pregnancy private. But we can see why having to look "a certain way" -- especially if it isn't physically possible -- can be frustrating for a model. Not to mention all of the readers flipping through glossies only to find carved-out thighs, Barbie-like faces and bizarrely elongated legs...
Think we'll actually be seeing more Photoshop-free pictures of Gisele in the future? Check out her new BLK DNM ad below and sound off in the comments.
PHOTO: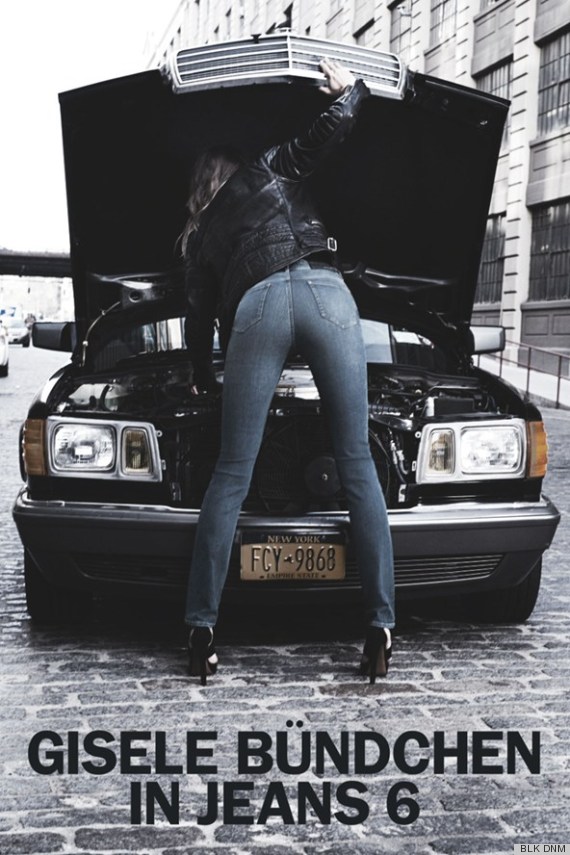 Think these were also retouched?
PHOTO GALLERY
Gisele's Best Ads
Want more? Be sure to check out HuffPost Style on Twitter, Facebook, Tumblr, Pinterest and Instagram at @HuffPostStyle.