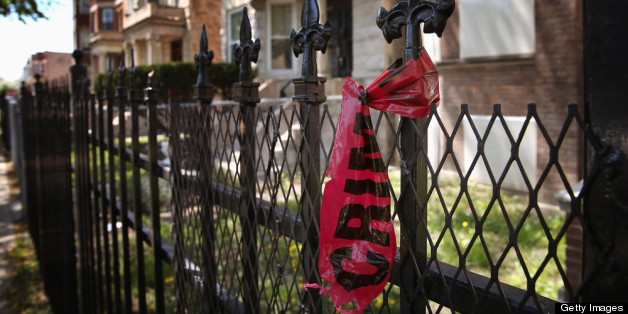 Following Chicago's staggering 2012 total of more than 500 homicides, the human toll of gun violence in the Windy City is well-known.
Now, a new Bloomberg analysis released Wednesday has put a price tag on the cost of killings:
$2.5 billion a year.
The multi-billion-dollar figure breaks down to an average of $2,500 per Chicago household, per year, University of Chicago Crime Lab director Jens Ludwig tells Bloomberg.
Some of the costs were intangible, such as impacts to quality of life like keeping children from playing outdoors in a violent neighborhood; others have firm figures attached. A sampling of Bloomberg's analysis includes:
$900 — 1,200: Cost of a typical ambulance ride to the ER
$800: "Incremental costs" for an autopsy by the medical examiner
$52,000: Average cost for acute trauma care of of gunshot victims, 70 percent of whom are uninsured
$35,000: Average cost of care at the Rehabilitation Institute of Chicago where 1/20th of the patients are gunshot victims
(See stunning infographics on the cost of gun violence in Chicago.)
Not only does violence destroy local business, but Ludwig tells American Public Media's Marketplace that every homicide in Chicago reduces the city's population by 70 people.
Residents left Chicago in droves during the past decade, in particular decimating predominately black neighborhoods on the city's South Side. Recent Census numbers indicate that while Chicago's population is on the upswing, it's growing at a slower rate than any other major U.S. city.
"One thing that happens when violence is driving people and business out of the city is that it obviously reduces the tax base, which denigrates the ability of the city government to address the violence problem, which generates more violence, which drives out more tax base," Ludwig says.
Another obvious way gun-related crimes sap the city's resources is through police overhead. Joseph Salemme, commander of detectives for the South Side, told Bloomberg "every murder incurs overtime," with extreme cases consuming 1,000 to 1,500 hours of "premium pay."
In the first three months of the year alone, the department had already blown through two-thirds of the overtime police budget.
A 2012 study from the Center for American Progress estimated that overall violence, not just that of guns, puts a $5.3 Billion annual dent in the collective wallet of Chicago. The study postulates reducing homicides by 25 percent would boost Chicago's home values by $5.5 billion.
Watch PBS Newshour's "Gun Violence Is Public Health Crisis in Chicago"
Watch Gun Violence Is Public Health Crisis in Chicago on PBS. See more from PBS NewsHour.
BEFORE YOU GO
PHOTO GALLERY
Crime In Chicago