Heather Graham and Mike Epps aren't the only original "Hangover" supporting characters who return for "The Hangover Part III." Grant Holmquist, who along with his twin sister Avery, played the "Hangover" baby that star Zach Galifianakis carries around on his chest in the early portion of first film is back as well.
According to People, Holmquist, now 6, had to audition for the role of Tyler like many other child actors. He may have always had an advantage, however, at least according to director Todd Phillips. "I had to [cast him]," Phillips said to HitFix about bringing the original child back for the franchise's finale.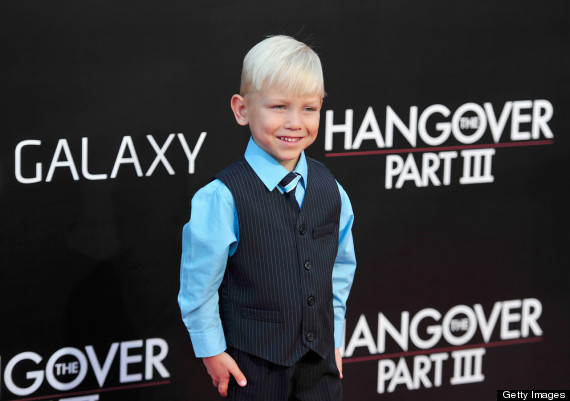 Like in "The Hangover," Holmquist shares most of his screen time with Galifianakis. (In the first film, Galifianakis' Alan took to calling the baby Carlos; his real name, however, was Tyler.) "Grant loves [Galifianakis]," Holmquist's mother Carrie told People. Holmquist's mother estimates that Grant appeared in 60 percent of "The Hangover," while his sister Avery appeared in 40 percent. (Other children were used for some scenes as well.)
The use of "Baby Carlos" in the first "Hangover" was controversial; at one point, the film's lead characters (played by Galifianakis, Bradley Cooper and Ed Helms) leave him alone in the back of a car with the window slightly cracked. There was also the scene where Alan pantomimed masturbating the child.
"I waited for the [baby's] mom to go upstairs because the mom was a little bit more not into stuff like that," Phillips remembered about the scene to THR in a recent interview. "I go to the dad: 'It would be funny if Zach pretends to do this. Would you have a problem with that?' And he literally goes: '[My wife is] going to be gone for a half-hour. Can you do it in the next half-hour?'"
Whether the baby in that scene was actually Holmquist is unclear.
PHOTO GALLERY
'The Hangover: Part III' L.A. Premiere
BEFORE YOU GO