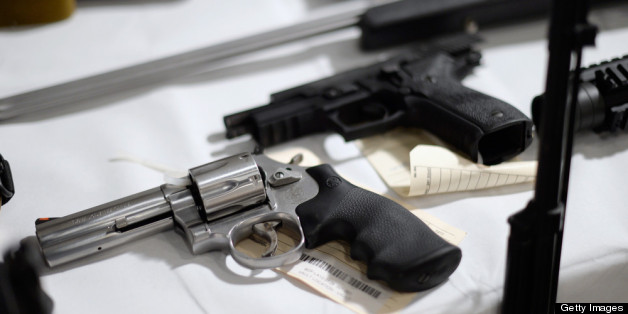 UPDATE: The bill was approved by the House Judiciary Committee in a 13-3 vote Thursday. It will next be considered in a full House vote that could take place as soon as Friday.
SPRINGFIELD -- Compromise legislation to regulate the carrying of concealed weapons in Illinois would include an appointed board that has the final say on whether someone can have a license.
The latest version of a concealed-carry bill was filed Wednesday afternoon by Rep. Brandon Phelps, D-Harrisburg, and Rep. Jerry Costello II, D-Smithton. They've been pushing for a bill that doesn't have too many restrictions, and held several meetings this week with House Speaker Michael Madigan, House GOP leaders, National Rifle Association representatives and other players.
"I do believe this is a good compromise, and gives the people of the state of Illinois a good concealed-carry bill," Costello said Wednesday afternoon.
A federal appeals court ruled in December that Illinois must allow residents to carry concealed weapons. Downstate lawmakers generally favor a bill with minimal restrictions, while most Chicago-area lawmakers want tight regulations on who can carry a gun, as well as where a gun can be carried.
A previous version sponsored by Phelps and Costello fell just short of passage earlier this year in the House.
Under their new proposal, Illinois State Police would be required to issue a concealed-carry license to anyone who meets prescribed requirements. But any law enforcement agency would have the ability to object to a person's application if there is "reasonable suspicion that the applicant is a danger to self, others, or poses a public safety threat."
That's where the appointed board would come in. The Concealed Carry Licensing Board would review those objections from law enforcement agencies.
The seven-member board would consist of three members from Cook County, and four members from outside Cook County. Members would be appointed by the governor, with approval by the Senate, and must be former federal judges, federal prosecutors or federal law enforcement agents.
"If local law enforcement objects to an application, this board would vet that," Costello said. "You also would have an appeal process with them."
Other highlights of the new proposal include:
-- Carrying guns would be prohibited in a number of places, including schools, child-care facilities, playgrounds, public parks, amusement parks, airports, libraries, hospitals bars and on public transit.
Carrying on public transportation has been a sticking point. Chicago lawmakers feared gun-filled transit trains, while gun supporters argue it's not fair to deny rights to people just because they have to rely on public transportation.
-- The fee for a license, for Illinois residents, would be $150.
-- A non-resident who has a concealed-carry permit from another state could carry a weapon only in his or her vehicle while traveling in Illinois. A non-resident from a state that has substantially similar requirements as Illinois for a license could obtain a non-resident license at a cost of $300.
-- Police, doctors, mental health professionals, health facilities, nursing homes and school personnel would be required to report any person they determine poses a clear and present danger to self and others.
-- An applicant would be required to complete 16 hours of training, including exercises at a shooting range and a review of laws. Only one state requires more training. Costello said he's hopeful that part of the training will be available online.
-- Local units of government, including large municipalities that have "home rule," would not be allowed to set their own rules on carrying firearms.
Costello said there's been a lot of negotiation on the proposal.
"Making law is kind of like making sausage," he said. "There's a lot of compromise, and I guess one of the things you have to recognize is the diversity between southern Illinois and northern Illinois."
Costello said he expects a House vote on the measure Thursday. The bill is listed as a House amendment to Senate Bill 2193.
In the Senate, a Chicago-area senator has proposed a much more strict bill. For example, it would require that applicants be "of good moral character" and have a "proper reason" for carrying a gun.
The court gave legislators until June 9 to allow carrying of guns. Gun-rights supporters have said if the deadline isn't met, Illinoisans would be allowed to carry weapons in public with almost no restrictions. Gun opponents argue that if the state legislature doesn't meet the deadline, local communities could enact their own laws, which could create a hodge-podge of rules across the state.
Contact reporter Brian Brueggemann at bbrueggemann@bnd.com or 239-2511. ___
BEFORE YOU GO
PHOTO GALLERY
Pivotal Moments In The Federal Gun Control Debate