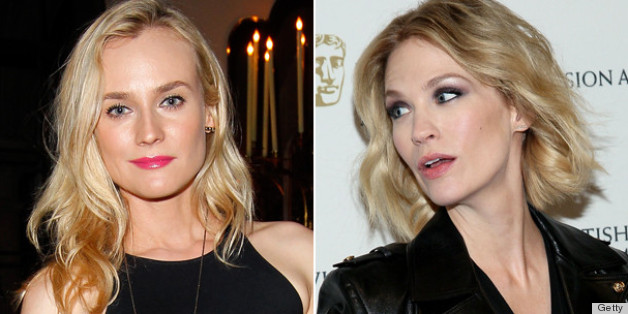 Not to pick sides, but Diane Kruger might just be our favorite gal to watch on the red carpet. So why is this polarizing? January Jones has just revealed that the two are in a perpetual style competition with one another.
"She always looks fantastic so I watch what she wears," January told Net-a-Porter's The Edit. "We like to go to shows or look online and then fight each other for the best [pieces]."
Maybe this isn't the wildest fashion catfight on the books, but it's interesting to think that stars, much like the public relations people who lend them the clothes, have to really keep track of what celebrities wear. For whatever reason, designer dresses seem to lose their luster each time they're subsequently worn by a new red carpet goer. Can you just imagine the angry phone calls made to stylists when stars see their a photo of their latest look printed side-by-side with someone else for a "Who Wore It Better?" feature?
Of course, January would only have herself to blame in that scenario, since the actress doesn't use a stylist (which might explain some of her awkward dressed-down moments). Diane, on the other hand, works with notable stylist Kate Young to put together some of her jaw-dropping looks (see here, here and here).
But don't think we're dissing Ms. Jones' style -- we think she can stand with the best of them on the red carpet (see here, here and here). And hey, what's wrong with a little friendly competition?
Just what the doctor ordered:
PHOTO GALLERY
Who Wore It Better?
Want more? Be sure to check out HuffPost Style on Twitter, Facebook, Tumblr, Pinterest and Instagram at @HuffPostStyle.