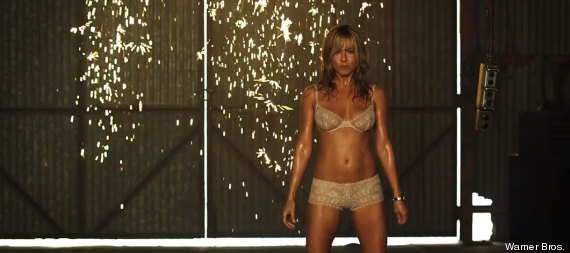 Jennifer Aniston enseña su cuerpazo en el avance de su nueva película "We're the Millers", en donde interpreta a una stripper.
La cinta, dirigida por Rawson Marshall Thurber, sigue a un traficante de drogas (Jason Sudeikis de "Horrible Bosses" y "Saturday Night Live") que contrata a Aniston y a un par de adolescentes (Emma Roberts y William Poulter) para fingir ser una familia y así, viajar a México para traer de vuelta un contrabando de mariguana.
Por supuesto, se topan con muchos problemas en el camino, incluyendo la mordedura de una tarántula y narcotraficantes mexicanos que quieren "prueba" de que Jennifer sea una stripper. Por eso... fuera ropa.
Existe una versión del trailer "más recatadita" que te presentamos arriba, y la versión de "banda roja" aquí abajo. "We're the Millers" se estrena en Estados Unidos el 9 de agosto.
LA VERSIÓN CENSURADA DEL AVANCE DE 'WE'RE THE MILLERS':
FAMOSAS QUE HAN HECHO STRIPTEASE:
PHOTO GALLERY
BEFORE YOU GO
Estrellas de strippers
PHOTO GALLERY
Estrellas de strippers