It's hard not to feel a little sympathy for Kim Kardashian since she hasn't had the easier time during her pregnancy.
The 32-year-old reality star has gracefully dealt with the tabloids calling her fat as she's gained weight the way pregnant women tend to do. Her sister Khloe recently took a stand against Kim's body critics, but it seems as though the reality star herself has had a difficult time dealing with her pregnancy curves.
In one scene from the trailer for season 8 of "Keeping Up With The Kardashians," Kim asks "how the f**k did I get like this," while discussing her growing belly with her family, and in another she bares her bump while clad in lingerie.
Kim's weight has been under a microscope since she first announced her pregnancy back in December. The reality star was often seen hitting the gym early on, and rumors quickly spread that she was dreading gaining weight, though she told Cosmopolitan that she more than expected to "definitely be up there," in the weight department by the time she gives birth.
At an event in New York in April, Kardashian told Us Weekly that she was slowly learning to accept her new figure:
"It was really hard for me to accept that the body changes, and I was having a different kind of pregnancy than Kourtney did," she told the magazine. "She made it look really easy, but ever since the baby started to kick I've really embraced it. Now I love being pregnant!"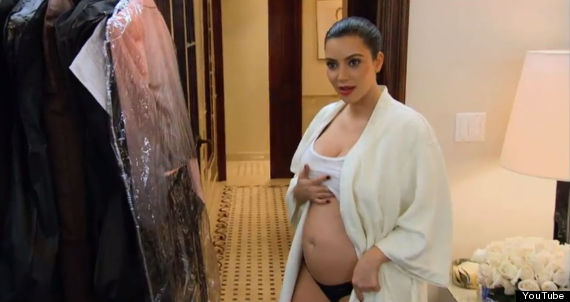 BEFORE YOU GO
PHOTO GALLERY
Kim Kardashian's Hottest Moments