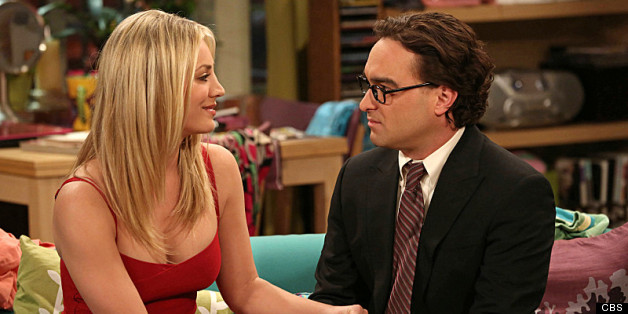 "The Big Bang Theory" has come a long way in six years -- and continues to climb to new ratings heights -- but this season in particular saw plenty of growth for its main characters.
In the season finale, Raj finally overcame his selective mutism, and a previous episode saw Sheldon and Amy taking their relationship to the next level, but as far as stars Johnny Galecki and Kaley Cuoco are concerned, it's Leonard and Penny's romance that's left them the most satisfied.
In a recent interview with The Hollywood Reporter, both actors chose Penny's "I love you" moment as their favorite scene from the season, which is understandable, given how long it took her to get there.
"When Penny said, 'I love you' to Leonard. It took her more than five years to say it. That's why now you know with Penny that whatever she does is real. You know when she said it she truly meant it. That's why now Leonard is OK with going away and knowing that they're going to be OK," Cuoco told THR. "We did that in one take. Steve [Molaro] came out and said, 'We're really happy with that. Do you want to do it again?' We didn't want to; it felt perfectly right. I told Johnny: 'It was so weird -- I became Penny in that moment.' There was no audience, just Leonard and Penny. It was a moment I'll definitely never forget."
Galecki agreed, "Penny telling Leonard she loves him is pretty big. We didn't play it as a watershed moment. It was played as if she's always known this. It was touching. I also love the moment when Leonard says, 'I know I propose a lot,' and then promises that he won't. It's one of my favorite Leonard lines to say. To put his own desire aside and say, 'You tell me when you're ready, despite what I want in my life right now and with you right now.' That's unconditional, selfless love."
While some fans were concerned that the pair would break up again in the finale, executive producer Bill Prady recently told The Huffington Post that the on again/off again couple have "come to a good place for the moment, so I think maybe they'll get to be happy for a little while."
For more from the "Big Bang Theory" cast, click over to THR.
PHOTO GALLERY
'The Big Bang Theory'
BEFORE YOU GO