Littlewhitehead is comprised of Glasgow-based artists Craig Little and Blake Whitehead. Together the pair craft biting visual jokes that will leave you simultaneously amused and horrified.
Taking inspiration from the banal trauma of everyday life and following in the footsteps of macabre humorists such as the Chapman brothers, Maurizio Cattelan and David Shrigley, the duo known as Littlewhitehead creates artworks that tend to elicit nervous giggles. With past works including a mirror dripping with (fake) cum and a deep-fried Bible, they leave everyone involved feeling wonderfully uncomfortable.
Their newest exhibition at Marine Contemporary in Los Angeles, titled "Unfinished Business," explores the ideas of ambition and failure in art and in life. The show will feature a dead chihuahua, pleather jackets and a work of art made from the duo's failed sculptures. Needless to say, we're intrigued.
We reached out to the uncanny artists to learn more. Scroll down for a slideshow of their work.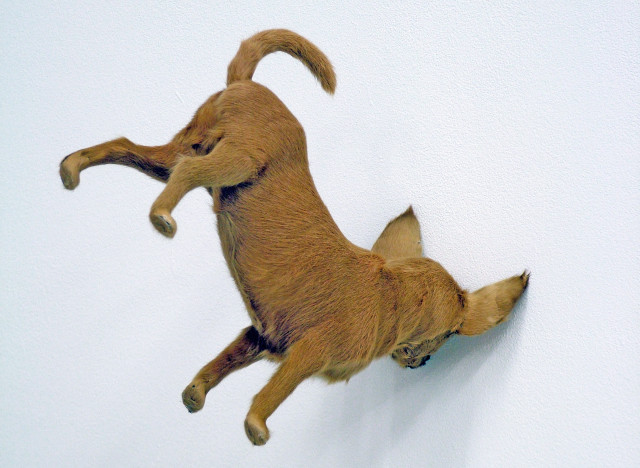 HP: How do you determine a successful failed artwork from just a failed artwork? In other words, how did you decide which failed works made it into the exhibition?
LWH: Time will determine whether or not the works are failed. Just now we don't think they are. One of the works, 'Failure', is made up from a collection of failed works and materials bought with the intent of becoming a work but ultimately never materializing. So although it is a collection of things that have failed, in their present form they aren't... or at least we don't think they are just now.

HP: Are the ideas of ambition and failure more prominent in the US than they are in Glasgow?

LWH: Everything is more prominent in the US.

HP: If you could see any artist's failed works, whose would you choose?

LWH: Ed Gein; his collages were great.

HP: Which of your past works made people the angriest?
LWH: Possibly 'Stoke'. It's a car we crashed into a tree outside a cinema. In the trunk of the car we rigged up an audio loop of a continual pathetic cry for help. Motor safety groups were outraged. Some Good Samaritan broke into the car to try and free the hostage in the trunk.
We annoyed Christians when we battered and deep fried a 200-year-old Bible, but Christians are always getting annoyed at something.

HP: Why do artists take themselves so seriously?
LWH: Because they're very, very, very serious people.

"Unfinished Business" runs until June 22, 2013 at Marine Contemporary in Los Angeles.
See a preview in the slideshow below and share your thoughts in the comments.
PHOTO GALLERY
Littlewhitehead