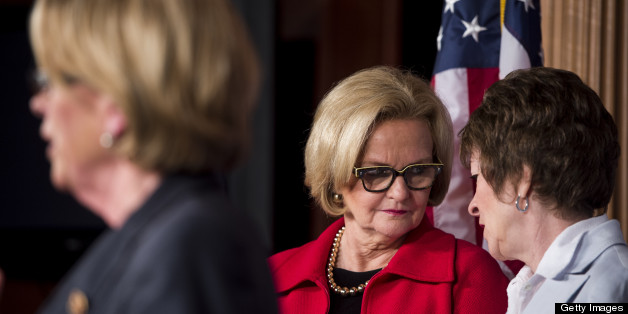 In the midst of a growing crisis over sexual assault in the U.S. military, a bipartisan group of senators and representatives proposed a bill on Thursday that would reform the way the military handles sexual assault cases.
The legislation, introduced by Sens. Claire McCaskill (D-Mo.) and Susan Collins (R-Maine) and Reps. Niki Tsongas (D-Mass.) and Mike Turner (R-Ohio), will be included in the broader defense authorization bill that Congress passes each year. The bill would require that any service member found guilty of rape or sexual assault receive a minimum punishment of dismissal or dishonorable discharge from the military, and it eliminates the five-year statute of limitations on trial by courts-martial for sexual assault.
It would also strip commanding officers of their authority to overturn a rape or sexual assault conviction. The change was inspired by a sexual assault case at the Aviano Air Base in Italy, where a commander recently overturned the sexual assault conviction of a fighter pilot and reinstated him into the Air Force.
A Pentagon report released earlier this month showed that military sexual assaults spiked in 2012 despite efforts to curb the problem. As many as 26,000 people were sexually assaulted in 2012, compared with 19,000 the previous year.
"I became involved in this issue six years ago when a female soldier told me she was more afraid of her fellow soldiers than she was of the enemy," said Tsongas, co-chair of the Military Sexual Assault Prevention Caucus. "She carried a knife in her waistband on-base in case she ever needed to fight back. That's why we introduced this legislation –- to fight back. Our bill is an important first step at looking to change the power of commanders and bring power back to those who have had it ripped away."
Sen. Kirsten Gillibrand (D-N.Y.) has also introduced bipartisan legislation that would go even further, taking discretion over sexual assault cases entirely out of the military chain of command. The bill is a response to reports that the military officials in charge of making decisions about sexual assault cases within their ranks often know the perpetrator personally, and in some cases, are either the perpetrators' friend, or are the perpetrators themselves.
While the military rape epidemic has gone on for decades, Gillibrand said Congress is now being forced to take it more seriously in light of the 2012 documentary "The Invisible War," which spotlights survivors of rape in the military and allows them to tell their stories.
"I think the movie was incredibly powerful. It put a face on our victims and allowed victims to tell their story in such a passionate way," Gillibrand told HuffPost in an interview. "I should call them survivors. The survivors having the courage to stand up and tell the world what happened to them has really made the difference."

BEFORE YOU GO
PHOTO GALLERY
The Faces Of Military Sexual Assault