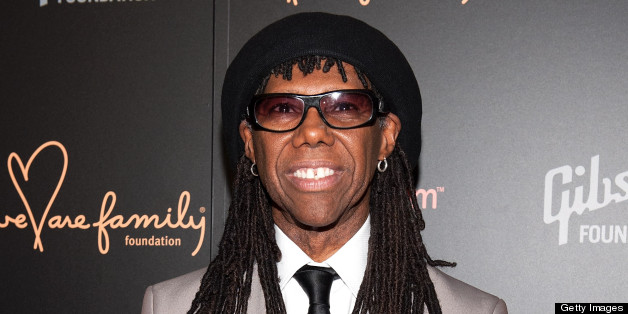 Legendary producer and guitarist Nile Rodgers is experiencing a grand career renaissance, thanks to his work with Daft Punk. Rodgers plays guitar on multiple tracks on "Random Access Memories" and appears in the video for "Get Lucky" alongside the French electronic duo and Pharrell Williams.
But just like Daft Punk hoped to bring back a touch of the past with their new record (which was almost completely analog), Rogers says he might have a surprise up his sleeve. In an interview with OfficialCharts.com, Rodgers says he's happened upon some previously unreleased material he and his Chic bandmates recorded for his solo album.
Rodgers -- who says he's now working with David Guetta and Avicii -- gushed about the archival material:
"The absolute coolest thing is that I finally retrieved some music that I thought was lost, when I was getting my first solo record deal. Obviously, I had a lot of my Chic bandmates play on some songs that I was working on. So, I basically call it 'the lost Chic album', even though it's really a Nile Rodgers record. Bernard Edwards, Tony Thompson, Alfa and Luci singing on it. They're just demos, but they're amazing. So now I get to jam with my best friends and I think that I'm going to complete these songs. They sound really good to me, after being tucked away in a vault for 35 years. I restored the tapes and they sound absolutely brilliant."
The music legend has battled cancer and released a memoir in 2011. The book recounts his experiences penning and producing hits for the likes of Madonna, Chic, David Bowie, Diana Ross, Mick Jagger, Grace Jones and many more. Giorgio Morodor, another legend of the disco era who worked on "Random Access Memories," is enjoying a similar resurgence and played his first-ever "live DJ set" in Brooklyn as part of the Red Bull Music Academy.
For much more, head over to Official Charts.
PHOTO GALLERY
Daft Punk Frenzy
BEFORE YOU GO