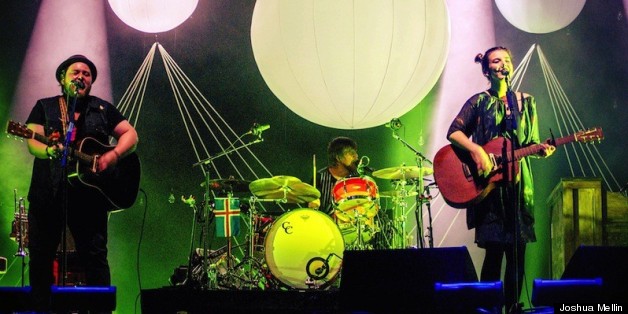 Though you likely may not recognize their name, you've definitely heard (at least one) of their songs.
Now a year since their jangly pop gem "Little Talks" (embedded below) took the United States by storm, Icelandic six-piece Of Monsters And Men returned to Chicago for just the second time since their appearance at last year's Lollapalooza festival to play a sold-out show at the massive Aragon in Chicago's Uptown neighborhood.
Not everyone was feeling their jams, which are right on trend with the likes of other folky bands like the Lumineers, Arcade Fire and Mumford & Sons: Bob Gendron wrote in the Tribune that their 75-minute set felt repetitive. But, nevertheless, it's hard to deny they've tapped into something powerful with their brassy, feel-good tunes.
Photographer and friend of HuffPost Joshua Mellin was on hand for the show and shared some of his pics.
PHOTO GALLERY
Of Monsters And Men Play The Riv
BEFORE YOU GO