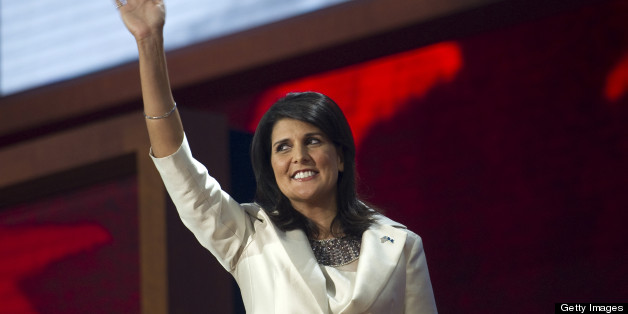 One of South Carolina Gov. Nikki Haley's (R) picks for her reelection committee in February has now been accused of being a white supremacist, Raw Story reported Wednesday.
Haley, who is actively preparing for her 2014 reelection campaign, named tea party activist Roan Garcia-Quintana as one of the 164 co-chairs of her campaign's steering committee in February.
According to a report titled "SC Governor Names White Nationalist To Reelection Committee" and published on Wednesday by the Southern Poverty Law Center, Garcia-Quintana serves on the board of the Council of Conservative Citizens, which is listed by the SPLC as a white nationalist hate group. The group is, according to the SPLC, a linear descendant of White Citizens Councils, which was founded in the 1950s to combat school desegregation.
In 2010, the Washington Post featured an NAACP-backed report that accused certain white nationalist groups of attempting to tie themselves with the tea party movement. The Washington Post interviewed Garcia-Quintana for the story, and wrote that he has been active in the Council of Conservative Citizens.
In April of this year, the Anti-Defamation League reported that the Council of Conservative Citizens actively rejects immigration, and has called mixed-race marriage "the mongrelization of the races."
In a post on his Facebook account last month, Garcia-Quintana, a Cuban immigrant, said he attended the Federation for American Immigration Reform's annual "Hold Their Feet to the Fire" event, an effort to stop the bipartisan push for immigration reform.
The daughter of immigrant parents, Haley has recently been the target of controversial comments regarding her ethnicity.
Earlier this month, former South Carolina Democratic Chairman Dick Harpootlian said Haley should go "back to wherever the hell she came from" so that the country "can move forward."
Harpootlian later defended those comments, clarifying that "she needs to go back to being an accountant in a dress store."
BEFORE YOU GO
PHOTO GALLERY
Racist Remarks Made By Politicians