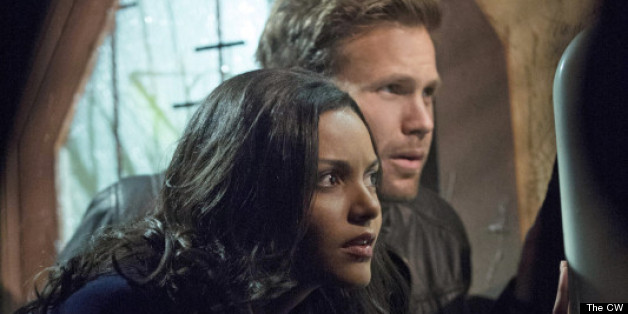 The CW series, starring Matthew Davis and Jessica Lucas, was pulled from the network in April, but the final six episodes will see the light of day.
"Cult" returns on Fridays, beginning June 28, airing double episodes for three weeks straight. The show centers on journalist Jeff (Davis) and production researcher Skye's (Lucas) investigation into a TV show that's generated a cult following of fans who are re-creating the crimes depicted on their screens.
Creator Rockne S. O'Bannon was the first to break the news about "Cult" coming back to finish its run via Twitter.
Great news #TrueBelievers: The CW will be airing the shocking final episodes of #Cult in 2 hour blocks 8pm-10pm on 6/28, 7/5 & 7/12. Enjoy!!

— Rockne S. O'Bannon (@Rockne_S) May 24, 2013
The CW confirmed the news of "Cult's" return to The Huffington Post. The show's cancellation in April didn't come as a surprise. The midseason series made its debut on Tuesday, February 19 and brought in a dismal 941,000 total viewers and only had a 0.3 rating in the key 18-49 demo.
After "Cult's" second outing, which saw even lower numbers, The CW moved the series to Fridays, which, for the teen-centric network, is not quite as deadly as it is on others. "Nikita" and "Supernatural" have both flourished on Fridays, but "Cult" did not. The most recent episode, which aired on Friday, April 5, brought in 620,000 total viewers and had a 0.2 rating.
Check out The CW's official descriptions for the next three episodes of "Cult" below:
"The Devil You Know" (now airing Friday, June 28 at 8 p.m. ET on The CW)
Jeff and Skye struggle to find evidence against Sakelik (guest star Aisha Hinds, "Weeds") to use as leverage to gain information on Nate. Stuart invites Roger (Robert Knepper) to a weekend getaway at his Santa Barbara estate. Skye has lunch with her mother (guest star Erica Gimpel) and the two discuss the past. Meanwhile, on the television show, Kelly (Alona Tal) strikes a deal with Billy to get her sister Meadow back.
"Off To See The Wizard) (now airing Friday, June 28 at 9 p.m. ET on The CW)
Jeff and Skye learn about a new initiates meeting of the True Believers. Skye plans to infiltrate the meeting with Jeff following close behind. While Skye and her fellow newbie's are being driven to the meeting location, Jeff unknowingly follows a decoy vehicle. Meanwhile, on the television show, Kelly suspects that Billy's followers kidnapped Andy (guest star Christian Michael Cooper).
"The Prophecy of St. Clare" (now airing Friday, July 5 at 8 p.m. ET on The CW)
On the set of the television show "Cult," Skye consoles Edie MacDonald (guest star Shauna Johannesen), the actress who plays Meadow, after she confesses to being spooked by a pair of figurines she recognizes from her childhood. Jeff and Skye pay a visit to Edie's mother (guest star Teryl Rothery, "Kyle XY"). Peter (guest star Ben Hollingsworth) continues to spy on Skye. Meanwhile, on the television show, Billy nears his breaking point.
Tune in to The CW on Fridays, beginning June 28 at 8 p.m. ET for two-hour blocks of "Cult."

PHOTO GALLERY
2013 Renewal Index: Canceled, Renewed & On The Bubble Shows
BEFORE YOU GO