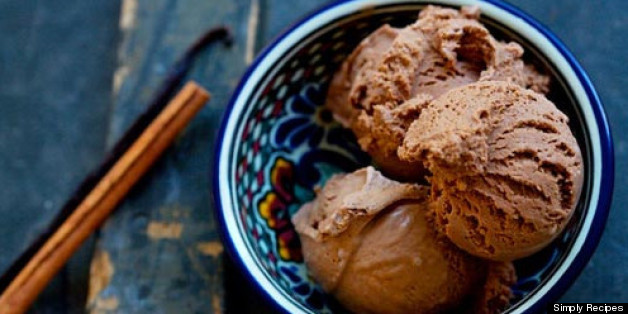 If there's one real good reason to slow down your life, ice cream is definitely it. By that we don't mean stopping when you see the ice cream truck to pick up a soft serve -- though we do recommend this course of action, always. We mean making your own ice cream, from scratch, with custard.
What is sometimes sold as frozen custard, but also fits in the category of ice cream, is maybe the richest kind of frozen dessert you can make. And when it's the richest, you know that means it's the best. While almost all ice cream is made with some combination of cream, milk and sugar, frozen custard adds in egg yolks to the mix essentially making custard that you then freeze. Since we all know custard is pretty amazing, you can be certain that freezing it for the summer months is nothing short of genius.
The only downfall to making a custard-based ice cream is that you have to actually make custard. It's not that it's difficult or terribly time-consuming to make custard, but it does require a little focus and a healthy dose of confidence in the kitchen. Combining hot milk to eggs without letting it curdle is an art, but it's one we can all (and should) master. Because once that's done, it's just a matter of allowing it to churn and freeze; and waiting for the magic to happen. Not only will you be rewarded with a big bowl of ice cream, but you'll also benefit from having taken the time to unplug from the everyday stresses of life and make something truly special.
Homemade frozen custard is like no ice cream you can pick up at the store. It's thick, rich and perfectly creamy. And if you're going to be eating ice cream (and breaking all those summer diets), don't you think it should be the best kind possible? If you're still not convinced, check out all the flavors of ice cream you can make at home below. And if you're ready to take the plunge, we think you can never go wrong with a David Lebovitz custard-based ice cream recipe.
Want to read more from HuffPost Taste? Follow us on Twitter, Facebook, Pinterest and Tumblr.
38 amazing ice cream flavors.
PHOTO GALLERY
Ice Cream Recipes
BEFORE YOU GO