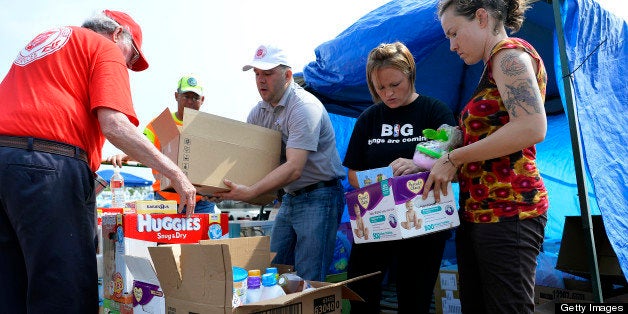 On Monday, a tornado more than a mile wide hit Moore, Oklahoma. In a matter of minutes, the storm caused major damage to everything in the town -- homes, schools and even the local medical center.

No matter how far from Oklahoma you live, there are ways to help the victims of this tragedy recover and rebuild. HuffPost Impact has a list of the charities and organizations that are raising money for the cause -- from the Red Cross and The Salvation Army to Save The Children and The United Way. To raise funds for Oklahoma, you could put on a concert, have a bake sale, stage a half-marathon, organize a game night or work with local businesses to hold an auction for your community. Tonight, let's brainstorm what we can do to join in the relief efforts and send our support to the people who need it most.

Questions for discussion:

What have you heard from your family, friends and teachers about the tornado?
Do you live in a part of the country where tornadoes could hit? (Have you ever experienced a tornado before?)
What can your family do for the victims of the storm?
In her cookbook, The Family Dinner, Laurie David talks about the importance of families making a ritual of sitting down to dinner together, and how family dinners offer a great opportunity for meaningful discussions about the day's news. "Dinner," she says, "is as much about digestible conversation as it is about delicious food."
We couldn't agree more. So HuffPost has joined with Laurie and every Friday afternoon, just in time for dinner, our editors highlight one of the most compelling news stories of the week -- stories that will spark a lively discussion among the whole family.
BEFORE YOU GO
PHOTO GALLERY
Heartwarming Scenes From Moore Tornado Recovery