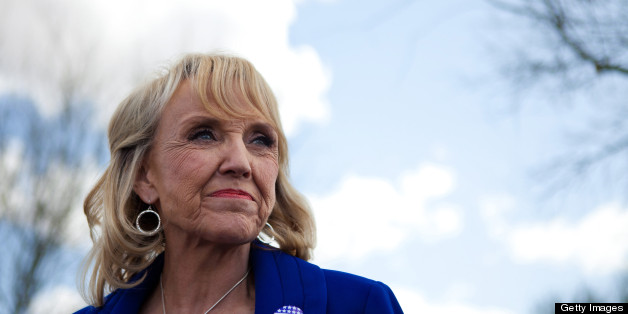 Arizona Gov. Jan Brewer (R) vetoed five bills Thursday, the first to reach her desk since she vowed to veto all legislation until the state Legislature addresses Medicaid expansion and passes a state budget.
Brewer -- who was the third Republican governor to announce support for an expansion of Medicaid, one of the pillars of Obamacare -- made good on a promise made in early May to place a "moratorium" on signing bills into law until the Arizona state Legislature reaches a deal to pass a budget for the 2014 fiscal year and an expansion to Medicaid. She vetoed bills on education and religious freedom on Thursday.
"I warned that I would not sign additional measures into law until we see resolution of the two most pressing issues facing us: adoption of a fiscal 2014 state budget and plan for Medicaid," Brewer wrote in letters to state lawmakers explaining her actions, according to azcentral.com. "It is disappointing I must demonstrate the moratorium was not an idle threat."
While the state Senate has passed a budget, the House has yet to do so.
The governor's support for Medicaid expansion has put her at odds with many members of her own party.
Ariz. Senate President Andy Biggs (R-Gilbert) has said that he will do "everything in my power" to keep a vote on Medicaid from even coming to the floor, according to NBC News.
State House Appropriations Committee Chairman John Kavanagh (R-Fountain Hills) said during an Arizona Republic-hosted debate that he would "like nothing better than it not even come to a vote."
Republican state representatives have reportedly received threatening phone calls and emails from constituents opposed to the Medicaid expansion, with one lawmaker saying a caller insisted they'd "come in and storm" their office. Nine other state representatives, including the speaker of the House, received an email against the Medicaid expansion bill that "quotes the Second Amendment and provides a script to be followed as a defense for shooting someone," azcentral.com reported.
But those threats have done nothing to change minds -- including Brewer's. The governor has said she believes "the bill is in pretty good shape."
In her January State of the State Address, Brewer announced the state would participate in the Obamacare Medicaid expansion. "Try as we might, the law was upheld by the United States Supreme Court," Brewer said. "The Affordable Care Act is not going anywhere, at least not for the time being."
BEFORE YOU GO
PHOTO GALLERY
Political Reaction To Health Care Ruling