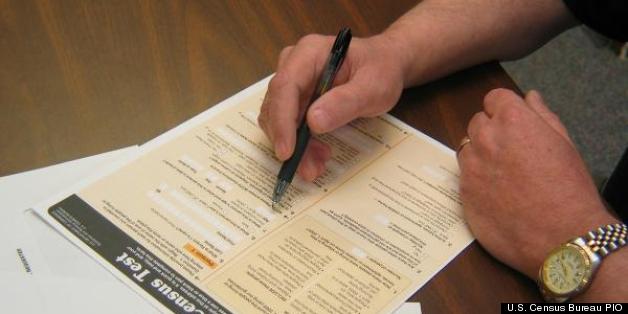 The President names a new Census director nominee. No one likes the sequester, one of the few things Congress approved recently. And the NRCC discovers polling telepathy (or something). This is the HuffPost Pollster update for Friday, May 24, 2013.
NEW CENSUS DIRECTOR NAMED - Government Executive: "President Obama has named John H. Thompson, the president and CEO of the University of Chicago's National Opinion Research Center, to be the next Census director. Thompson would bring four decades of experience as a statistician, including two decades at the Commerce Department in various positions. Census has been without a director since Robert Graves resigned last year to become provost at Georgetown University...Phil Sparks, co-director of the Census Project, a coalition of 600 associations, think tanks, academics, local officials and civil rights groups, said Thompson will make "an excellent director of the Census Bureau." He has "solid previous experience in senior management of the bureau and is currently head of what most people consider the most prestigious survey research center in America," Sparks told Government Executive. He added that he hoped there would be no resistance in the Senate because "the bureau has been waiting for a director since August 2012." [GovExec]
SEQUESTER UNPOPULAR - ABC'S Gary Langer: "The federal budget sequester may be dampening a rise in economic optimism: Nearly four in 10 Americans now say sequestration has hurt them personally, up substantially since it began in March – and they're far less sanguine than others about the economy's prospects overall. Thirty-seven percent in the latest ABC News/Washington Post poll say they've been negatively impacted by the budget cuts, up from 25 percent in March. As previously, about half of those affected say the harm has been 'major.'" [ABC News]
No partisan divide - "More from ABC: Perhaps surprisingly, given the partisan nature of the debate, views of the cuts don't divide sharply along party lines. Majorities of Democrats and Republicans alike oppose the cuts – 59 and 54 percent, respectively – as do a similar 58 percent of independents. One reason: Republicans are 14 points more apt than Democrats to say they've been harmed by the sequester. And among Republicans who've been hurt by the cuts, 68 percent disapprove of them. Among those unhurt, disapproval drops to 42 percent." [ibid]
Questioning the question - Full text of the questions: "Automatic cuts in federal spending have begun to take effect because Obama and Republicans were unable to reach a budget agreement earlier this year. Do you approve or disapprove of these budget cuts taking place? Have you personally felt any negative impact of these budget cuts, or not?" Republican pollster B.J. Martino, via Twitter: "The question wording describes it as a failure on the part of politicians, thus encouraging a disapprove response." [@bjmartino]
SUPPORT CONTINUES FOR GUN BACKGROUND CHECKS, BUT THE POLITICAL RAMIFICATIONS OF ITS DEFEAT ARE UNCLEAR - HuffPost's Emily Swanson: "Support for expanding background checks to more gun purchases remains high, according to polls released Thursday. But the surveys provide mixed evidence on how the Senate's defeat of the Manchin-Toomey proposal might affect future electoral support for opponents of greater background checks....The Post/ABC and HuffPost/YouGov polls also found little evidence that the Senate legislation's defeat at the hands of mostly Republican senators (with the help of a few Democrats) has hurt Republicans on the issue of gun control overall. In the Post/ABC poll, when asked whom they trust more on handling gun control, 42 percent of respondents said President Barack Obama and 41 percent said Republicans -- the same percentages found by a Post/ABC poll conducted before the background checks measure was defeated. That was true even though the poll found that, among those who said the Senate did the wrong thing in defeating the background checks legislation, 64 percent blamed Republicans for the defeat and only 17 percent blamed Obama." [HuffPost]
The National Journal's Ron Brownstein: "Relatively small sample but in @pewresearch poll just 21% of Hispanics w/gun in household and only 20% prioritize gun rights over controls...[the] poll shows why gun control fight has changed: D's have incentive to keep pushing because it unifies their new ntl coalition." [@ronbrownstein]
A BIT OF 'F.U.' (Follow-Up) - Yesterday's update included a swipe taken at the ABC News/Washington Post poll by the National Republican Congressional Committee (NRCC): The generic U.S. house ballot, they complained, came "three questions before the survey ends, right before asking about the Tea Party and after respondents are prompted to contemplate who's to blame for the Senate not passing background checks, President Obama or Republicans." [NRCC]
Washington Post survey research analyst Scott Clement responds (via email): "The claim about questions on background checks being asked 'right before' the ballot question is not accurate. As you can see in the full topline, Q33 was not asked directly after questions on background checks, but instead after seven of questions about prosecutors' taking of Associated Press phone records, the IRS' targeting of conservative groups and the controversy of Benghazi. Of course, the question came in the broader context of questions on a broad array of issues, from the sequester budget cuts to immigration to gun control. We had already released these questions, so they didn't appear in the group of questions on the page featuring immigration and gun control results. But we always chronicle the order of the full poll in the 'Data: Complete trends over time' document, which is linked to in every poll release where trends are reported." [WaPost Complete Trends Topline]
About that Tea Party question - We're at a loss for how the NRCC imagines the Tea Party identification question (Q34) had any effect on answers to the generic ballot question (Q33), which was asked first. Telepathy, maybe? Pro tip: In a telephone interview, respondents don't get to go backwards.
MOST SUPPORT SPENDING ON TORNADO RELIEF - HuffPost's Emily Swanson: "American support for federal disaster relief programs is high, according to a new HuffPost/YouGov poll. And if a disaster aid bill is needed for those hit by the Moore, Okla., tornado earlier this week, most don't think other programs should be cut to fund it. According to the new poll, 59 percent of Americans think that any disaster relief for the area affected by the Moore tornado should be funded separately from existing programs, while only 23 percent said it should be offset by spending cuts to other programs." [HuffPost]
FRIDAY'S 'OUTLIERS' - Links to more news at the intersection of polling, politics and political data:
-Two-thirds of Americans say that the nation's economy is in poor shape, but with a few glimmers of optimism. [CNN]
-Fewer Americans in 2013 identify as conservative, more as moderate. [Gallup]
-Amy Walter ponders how political polarization will affect the Obamacare rollout. [Cook Political]
-Brendan Nyhan reviews how a new data set can bolster state level political reporting. [CJR]
-Elizabeth Wilner reports on some really early ad buys in Iowa, New Hampshire and South Carolina. [Cook Political]
-Harry Enten notes a high precinct-level correlations between Michael Bloomberg's votes in 2005 and 2009 Anthony Weiners vote as a candidate for New York Mayor in 2005. [@ForecasterEnten]
-Christian Heinze highlights some interesting election facts gleaned from the Roper Center Archives. [Prez 16]
-Jessica Leber reviews the increasing demand for data scientists. [Technology Review]
-A PBS "Off Book" episode sums up the art of data visualization. [FlowingData]