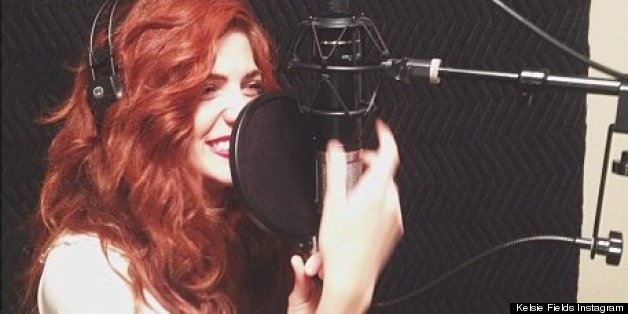 On May 12th, Kelsie Fields left her sister's house in Sun Valley, Idaho after a relaxing weekend of family bonding and hiking. Earlier that Sunday she posted a photo to her Instagram account with the caption, "My day couldn't be anymore peaceful," and on her way home she stopped to watch the sunset. Little did she know that soon after she would lose control of her car and plummet into a 40-foot ravine, sustaining injuries from which she might never fully recover.
Fields, 20, survived, but the accident has upended her life in ways she could never have imagined.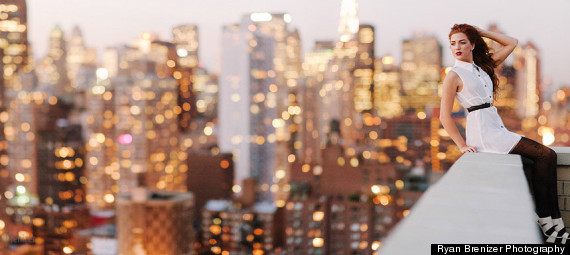 She says that she doesn't remember exactly what happened, but she recalls the moments leading up to the accident in precise detail.
"I swerved to the left and over-corrected," she told HuffPost over the phone. "I lost control and ended up going off the left side of the road. All of a sudden I was in the air. I realized it was a cliff, and I knew my seatbelt was too far away [to put on]. I said, 'God, please don't let me die.' I was yelling, 'It's not my time! Please don't let me die. Please don't let this happen.'"
When she hit the ground, still in her car, she was convinced that she was dead. "I was telling myself, 'This is it, it's done, I'm safe,'" she said. But when she opened her eyes, she found herself propped up on her car's trunk -- she believes she was ejected through the back windshield. She felt pain in her head, her foot, her eye and her left arm, and that arm was losing a significant amount of blood. As she wrapped her t-shirt around it, she heard a voice from up on the road.
Help had arrived in the form of Natalie, who had been driving with her daughter, son and the foreign exchange student she was hosting. Natalie had seen Fields' car go off the road. Her 19-year-old daughter ran down with a first aid kit, and when the EMTs arrived, Natalie talked needle-phobic Fields through letting the first responders put an IV in her. Soon after, Fields was air-lifted to a hospital in Boise where her family was waiting. She had broken her heel and had two deep lacerations in her arm and one through her eyelid, but she alive and hadn't sustained any brain damage. It was, all in all, miraculous.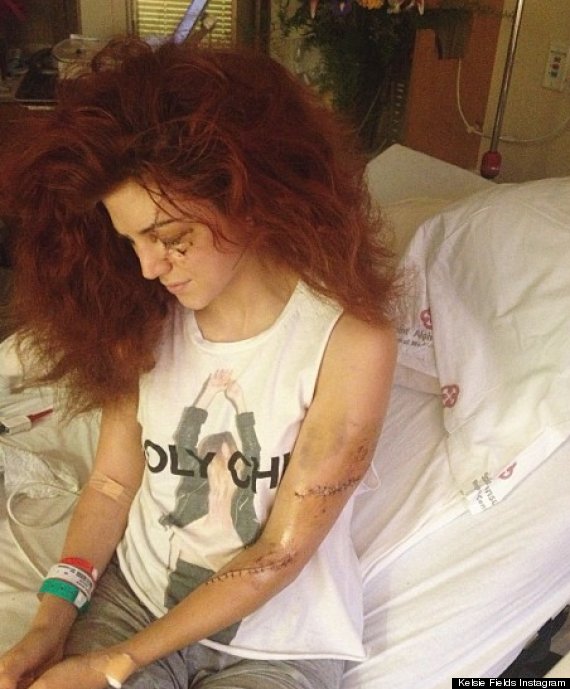 The recovery process will likely be long, but Fields has made an astounding amount of progress in just two weeks. "My arm is back together and I have a scar, and my eye is back together and I have a scar," she said. She's going to need several more surgeries on her eyelid, which she currently can't open more than a quarter of the way, but the next procedure will have to wait six months. She may also need another surgery on her foot, but Fields told HuffPost that she will hopefully be walking within a month. "I'm hoping, I'm really praying," she said. "I just want to walk at least."
In the meantime, she'll be singing. Just a couple weeks before the accident, the singer and songwriter had her first professional recording session and laid down a cover of Lana Del Ray's "Young and Beautiful." She first saw the video of the session on the morning of May 12th and played it for her mother and grandparents while she was in the hospital. "My mother started crying," Fields recounted. "She said, 'Listen to the lyrics.' It says, 'Will you still love me when i'm no longer young and beautiful?' And it says 'I know you will.' It's like it was a message to everyone saying 'I know you will still love me even though I dont look the same way.'"
Fields' friend, photographer Ryan Brenizer, reached out to Lana Del Ray -- whose parents happen to be family friends with his parents -- since he knew that the singer was one of Fields' idols. But since Del Ray was promoting "Gatsby" in Cannes, it looked like he wouldn't be able to get through to her. Then, on May 22nd, Fields saw a comment on her YouTube channel where she had posted the "Young and Beautiful" video:


"I was so amazed and so excited and felt very humbled and honored that she would write something like that to me," said Fields.
Saddled with thousands of dollars in medical bills and uncertainty about the surgeries ahead, Fields could be pessimistic about her future, and understandably so. But in just two weeks she's managed to develop a better attitude than most people have about bad weather. "It really has been such a short of time, and I'm still going through all of that and trying to be positive and then having those moments breaking down," she said. "But [the accident has] shown me true beauty shines from within."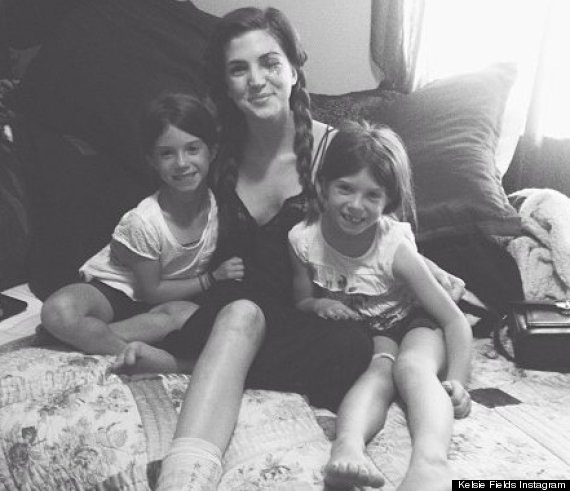 The whole ordeal has made Fields committed to inspiring others with her story and her voice. "Even though it had to be such a horrific experience, I need to use this and show people the true meaning of beauty and of life," she said. "You don't need to be that perfect beautiful person, you just need to be beautiful on the inside."
WATCH: Kelsie Fields Sings Lana Del Ray's "Young And Beautiful"
BEFORE YOU GO
PHOTO GALLERY
Kelsie Fields (Photos By Ryan Brenizer)