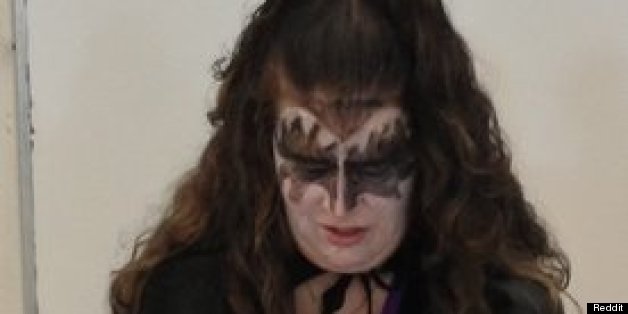 UPDATE: May 28 -- Contradicting earlier reports on Reddit that "Dress Like A Rock Star Day" did not take place, Kathy Anthony, a community relations coordinator for the Round Rock school district in Texas, confirmed to The Huffington Post that the themed spirit day did occur last week at Cedar Ridge High School. This post has been updated throughout to reflect that information.
Previously:
We imagine that taking your teacher seriously might be kind of difficult when they're dressed like this:
No, it isn't Halloween. It's "dress like a rockstar day."
A student posted this photo to Reddit Friday with the caption, "Today was supposed to be 'Dress like a rockstar day,' my teacher didn't read the part that said 'Jk, don't dress up.'" The school district, however, confirmed that everyone was in fact encouraged to dress for the occasion.
Some Reddit users could relate to the teacher's experience.
"I literally have this fear every friday, when we can wear jeans at work. Yes, we do it every friday.. and yes, I still panic, every friday. ('Are you sure today is Friday?')," wrote ManiacMcMuffin.
"When I was being inducted into the National Honor Society, part of the initiation was wearing a bikini to school. I was the only male inducted that year. I was also the only one to wear just a bikini," wrote budpickens.
And we have to hand it to this teacher. Her KISS costume is pretty great.
Do you have any funny memories regarding one of your teachers? Let us know in the comments section.
BEFORE YOU GO
PHOTO GALLERY
The Most Beautiful and Imaginative Public Schools in the World