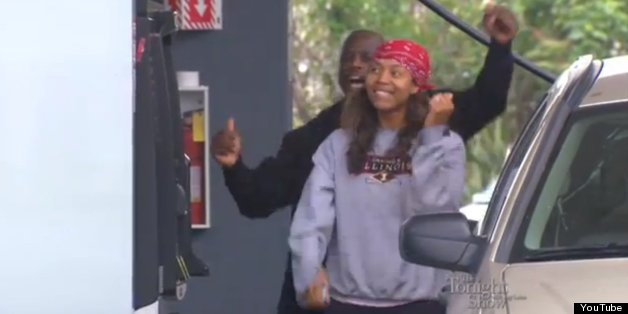 Recognize these smiling faces? College sweethearts Monifa and Will Sims became overnight sensations when their hilarious karaoke prank video went live after Jay Leno's Tonight Show cameras featured them belting out their favorite tunes for free gas at a Costco in Burbank, California. Within a few days, it seemed everyone in the country was talking about that super-cute married couple singing at the pumps. Their free-spirited nature, genuine love and enthusiastic renditions made America fall in love with their love. Since then, you've seen the happy couple, who will celebrate their 12th marriage anniversary in July and are parent to an 11-year-old daughter, all over your television and heard them on your favorite radio stations too. America can't seem to get enough of Will and Monifa, so we caught up with them to ask the burning question that's on everyone's mind: How are they so darn happy? And, will they share their secrets?
ESSENCE.COM: Your video became an overnight success. What has that been like for you?
MONIFA SIMS: It's been a blessing. The things that really stand out are all the really wonderful comments and things people have said. Things like, "I was having a really bad day and you made me smile." Or, "I start off my day watching your video because it makes me laugh. That is really awesome and amazing for us.
WILL SIMS: I like the comments that tell us that we make marriage fun and there should be more couples like us in the world. They say, "I wish my marriage was as fun as yours."