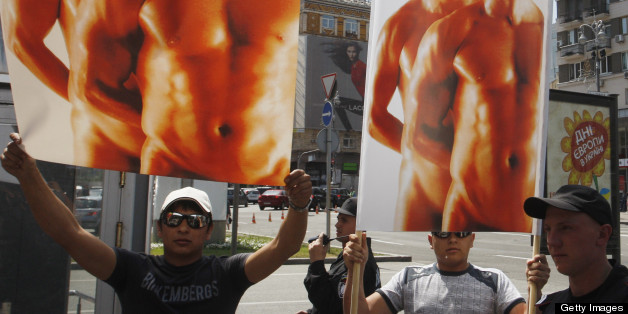 * Gay rights event would have been first in ex-Soviet republic
* Similar rally cancelled last year after threats to activists
KIEV, May 23 (Reuters) - A Kiev court on Thursday banned what would have Ukraine's first gay pride event after city authorities raised security concerns.
There is little public acceptance of homosexuality in predominantly Orthodox Ukraine, as in other former Soviet republics; last week, large crowds of protesters broke up gay rights rallies in Georgia and Russia.
A spokeswoman for the organisers of Saturday's Equality March, who declined to be named for fear of reprisals, said activists would find another way to express "our protest, our view on what is going on with human rights in Ukraine".
A year ago, gay activists cancelled similar plans for a rally in Kiev at the last minute, saying they had received threats of violence. One of the organisers was beaten up by a group of men in broad daylight the same day.
Ukraine's parliament last year shelved the second reading of a bill that would have criminalised the "promotion of homosexuality". But it has also delayed passing legislation to outlaw discrimination against homosexuals in the workplace.
The Kiev city administration said on Thursday that a local court had barred all events in the city centre on May 25 except for previously planned official celebrations marking "Kiev Day".
"Non-government organisations and citizens had sent several applications to the city government to hold mass rallies at the same place (to express) opposing views," it said in a statement.
While it recognised freedom of assembly, it said it had been obliged to "take the necessary measures to ensure public order and protect people's lives and safety". (Reporting by Olzhas Auyezov and Natalia Zinets; Editing by Kevin Liffey)
BEFORE YOU GO
PHOTO GALLERY
Gay Pride Around The World