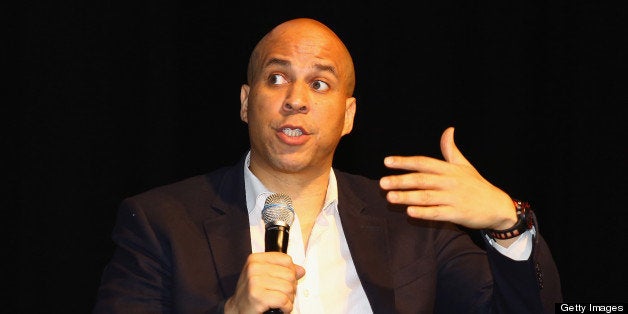 ROSELLE, N.J. -- Newark Mayor Cory Booker is calling on Democrats in New Jersey to unite behind the party's gubernatorial candidate in an effort to stop party infighting that has become a dominate theme in the campaign.
Booker told The Huffington Post Friday that with a Democratic enrollment advantage in the Garden State, state Sen. Barbara Buono, the party's presumptive gubernatorial nominee, would win with an appeal to rank-and-file Democrats, rather than party leaders. Buono has faced increased Democratic disunity, centered around her pick for a state party chairman and has seen Democratic elected officials endorse Gov. Chris Christie (R). Booker and Buono headlined a rally at a restaurant in this Union County community Friday night for a local state senator who is facing a challenge in next month's Democratic primary.
"At the end of the day we have a state that more Democrats and Republicans," Booker told HuffPost. "This is up to them and not a few people."
"I don't think he will," Booker said.
Fulop told HuffPost this month that he did not have a timetable for an endorsement and is focused on his transition, but indicated that he wanted to hear from Christie and Buono on a variety of issues. He did say that Christie has been helpful on education issues in Jersey City.
Booker said that he wants Democrats to understand that Buono is more in line with the party's values than Christie, stressing a series of issues including funding for Planned Parenthood, the environment, marriage equality and economic development. Booker told the same message to the crowd at the rally, where he received a louder ovation than Buono.
"She is right where New Jersey is," Booker told HuffPost of Buono's views.
Booker believes that the party will unite behind Buono's pick of state Assemblyman Jason O'Donnell (D-Bayonne) to become the state Democratic Party chairman. While tradition dictates that the gubernatorial nominee picks the chairman for the general election period, the O'Donnell pick has been met with hostility by party leaders, centering around his role in a failed legislative coup and in not backing Fulop in this month's election. State Senate President Steve Sweeney (D-West Deptford) has openly opposed O'Donnell, while PolitickerNJ.com reported this week that U.S. Sen. Bob Menendez (D) is also against the pick.
Having formed an exploratory committee for a potential 2014 U.S. Senate campaign, Booker told HuffPost that the effort is progressing but is not where he is placing his attention.
"My main focus is doing my job and helping this campaign," Booker said, meaning Buono.
BEFORE YOU GO
PHOTO GALLERY
United States Governors