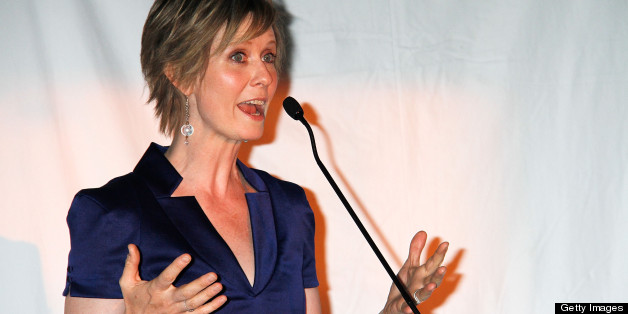 Cynthia Nixon, best known for her role as independent, driven attorney Miranda in "Sex and the City," is much busier off-screen than on- these days. A profile of Nixon in the New York Times this weekend focused mainly on her political activism and who she is -- and isn't -- voting for in the New York City mayoral race. But the piece also touched on how she feels about "SATC" almost 10 years after the show's finale.
According to the article, she's "proud of what 'Sex and the City' did for women." You know what she didn't like about it -- well, the first movie version, at least? The way it linked love and money.
"I remember when we screened the first movie in London, when Mr. Big shows Carrie that closet he's built for her and the entire audience clapped," she told the Times. "I found that devastating. Maybe that's a strong word, but I was disheartened. Because I thought: 'Is this what these women in the audience think true love is? A man who has enough money to buy you a walk-in closet?'"
Nixon isn't the first to question women's reactions to that film. In a review that one blog declared an "evisceration," The New Yorker's Anthony Lane described that part of the movie:
Mr. Big not only buys [Carrie] a penthouse apartment ("I got it"), he offers to customize the space for her shoes and other fetishes. "I can build you a better closet," he says, as if that were a binding condition of their sexual harmony: if he builds it, she will come. The creepiest aspect of this sequence was the sound that rose from the audience as he displayed the finished closet: gasps, fluttering moans, and, beside me, two women applauding. The tactic here is basically pornographic—arouse the viewer with image upon image of what lies just beyond her reach...
It's possible that the female audience members' ecstasy was just about closet space, not about the fact that Big purchased it for Carrie, but point taken, Cynthia. Love is not about the closet space, and if you want a walk-in, best to buy your own. Miranda would be proud.
Click over to The New York Times to read the full profile of Nixon.
BEFORE YOU GO
PHOTO GALLERY
"Sex and The City": Style From The Early Seasons