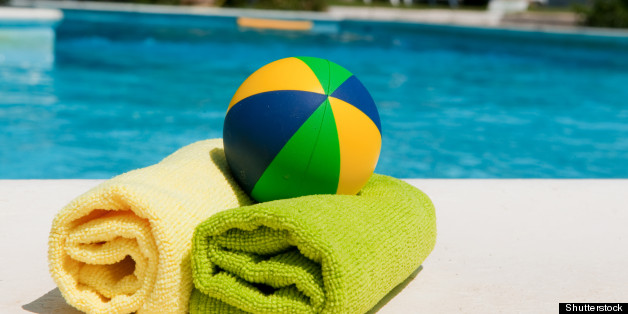 Brennen Hathcock of Jefferson became a lifeguard to help people, but on Saturday there was no one to help.
By 3 p.m., no one had showed up to the city pool in Mullinix Park -- the first day of the summer pool season in Frederick was quiet.
Very quiet.
"I was hoping that somebody would drop in for a little while at some point," Hathcock said. For hours he twiddled his thumbs and chatted with other lifeguards at William R. Diggs Memorial Swimming Pool along Carroll Creek.
But regulars at the pool were no-shows, too. People weren't even interested in buying a pool pass for the summer, aquatics supervisor Veronica Smith said Saturday.
Still Hathcock continued his wishful thinking. After all, Saturday was his first day on the job as a lifeguard, he said.
Then reality hit.
"It's cold," Smith said.
Pool managers and lifeguards agreed it was just too cold to swim Saturday.
Chris Strong of the National Weather Service said temperatures at BWI Airport peaked at 65 degrees, making it the fifth coldest May 25 since the 1800s.
Last year, temperatures peaked at 83 degrees, according to weather reports and, on average, temperatures are in 70s this time of year, Strong said.
On top of the cool weather, wind gusts moved through the area Saturday. The gusty weather created small ripples in the pool.
Lifeguards at the swimming pool in Baker Park guessed water temperatures were between 50 and 55 degrees.
By 4 p.m. Saturday only three people had shown up at the Edward P. Thomas Jr. Memorial Swimming Pool in Baker Park. Two of them, Lib Rood and Mark Walsh, braved the cold water in wet suits. They had stopped by the pool earlier in the day to test the water temperature.
They decided it was a go.
Rood, who is training for a triathlon on Saturday in Rock Hall, said she wanted to take advantage of the open pool. She swam with Walsh for about 20 minutes. He described the water as "cool and refreshing."
Rood agreed, but admitted her feet were a little cold. The two wrapped up her triathlon workout in about an hour, and that's when Joey Behnke showed up to take a dive.
Behnke usually comes to the Baker Park pool on opening day, he said, so he continued his Memorial Day weekend tradition in spite of the weather.
"It's not that bad, but it's cold," he said after taking his first dive.
He continued to dive in and out of the water while a group of lifeguards watched from inside the pool house.
Like Hathcock, they passed the time cleaning the pool, even though only three people were there to use it.
The scene in 2012 was completely different, pool employee Melva Leishman recalled.
"Last year ... we had too many people in the pool and we had to close the pool, then a line formed out front," she said.
In her 30 years at the city pool, Leishman had never seen it filled to capacity until last Memorial Day weekend. This weekend, the scene was completely different.
"The difference is too many last year and none this year," Leishman said.
Follow Cara R. Anthony on Twitter: @CaraRAnthony.
Public swimming sites in Frederick County
Hunting Creek at Cunningham Falls Park, off Md. 77 near Thurmont. Open 11 a.m. to 6 p.m. daily. Opens Memorial Day. 301-271-7574
Williams R. Diggs Memorial Swimming Pool, 125 W. All Saints St. Frederick. Open 11 a.m. to 8 p.m. Monday through Saturday, 12:30 to 8 p.m. Sunday (4 to 8 p.m. on public school days in May and June). 301-600-6364
Edward P. Thomas Jr. Memorial Swimming Pool, 500 Fleming Ave. Frederick. Open 12:30 to 8 p.m. daily (4 to 8 p.m. on public school days in May and June). 301-663-5666
Brunswick Municipal Pool, 12 E. A St., in Brunswick. Sunday, 12-6 p.m. and Monday 12-7 p.m.; June 1, 2, 8, 9: 12-6 p.m. Regular season hours begin June 14. 301-834-7500
Emmitsburg Community Pool, 300 E. Lincoln Ave., Emmitsburg. Call for updated hours. 301-447-9820 ___
BEFORE YOU GO
PHOTO GALLERY
Swimming Questions, Answered