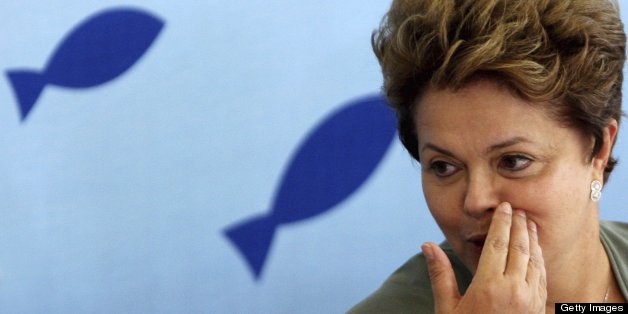 By Michael Lopez

It's always important to have role models. And for the young Latinas of the world, Forbes gave them about a dozen to choose from. That's right, this year's "Most Powerful Women" list has arrived and it has a very strong Hispanic presence.
Coming in on top was Dilma Rousseff. The 65-year-old Brazilian President earned a #2 slot on the list, right behind German Chancellor Angela Merkel. Dilma was credited for pulling her country out of an economic slump and inspiring entrepreneurship among her citizens. And we imagine her "Power" will only increase after Brazil hosts the World Cup and Olympic Games.
The next highest–ranking Latina also hails from Brazil. #18 Maria das Gracas Silva Foster is a highly educated chemical engineer and changing the way her country handles oil exports. She also helped her Petrobas company earn a cool $144 billion last year.
Argentina President Cristina Fernandez de Kirchner came in at #26 on the list, actually dropping a few notches from 2012 because of a nationwide inflation problem. Tr3s fave Sofia Vergara earned a respectable #38 on the list and was praised for her multiple endorsement deals. An actress, producer and entrepreneur, Sofia truly is at the top of her game.
Shakira came in at #52 and was recognized for selling over 50 million albums worldwide. Forbes also praised her lucrative Voice deal and her philanthropic efforts. #65 is Spanish investor Rosalia Mera. Worth an estimated $6.1 billion, her wealth is entirely self-made based off the success of the Zara clothing brand.
And coming in at #95, Brazilian beauty Gisele Bundchen still proved she was a force to be reckoned with. Gisele continues to land lucrative modeling contracts and owns several clothing lines. But she took a tumble this year, dropping from the #32 slot in 2012.
Read more Blogamole's News and Chisme here.
BEFORE YOU GO
PHOTO GALLERY
World's Most Powerful Women In 2013: Forbes