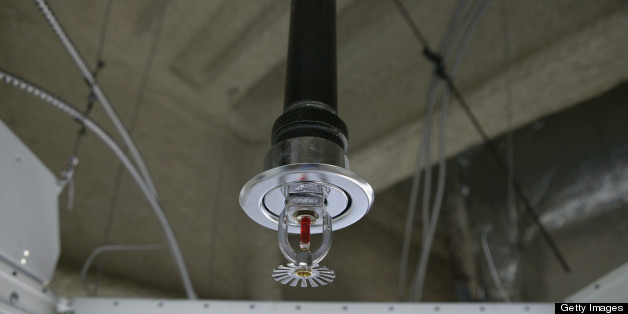 Thinking about building a new house?
If the Illinois fire marshal gets his way, you'll need to add roughly $3,000 -- or maybe much more -- to the final price tag.
State Fire Marshal Larry Matkaitis is pushing an update to the state fire safety code that would require the installation of sprinklers in all new homes. The fire marshal has the authority to write rules and codes that have the same force and effect as state laws.
Builders say home construction already is way down in Illinois, and buyers can't stomach a new requirement that is so costly.
And some state lawmakers say such a major issue should be decided by the General Assembly, not by the fire marshal.
But other lawmakers, including Rep. Eddie Lee Jackson, D-East St. Louis, say the code update is a safety move that will save lives of residents as well as firefighters. Jackson last week helped kill a legislative measure that would have instructed the fire marshal to stand down.
"I voted in support of the state fire marshal and all of the fire departments, because they're the ones who go into the homes to put out the fires," Jackson said. "But in addition to them being protected, you have to speak in terms of the residents themselves. It helps and protects our residents, our constituents."
The legislative measure, House Resolution 341, was voted down Tuesday in the House Consumer Protection Committee. It needed eight votes for passage, but received only seven. Three committee members who voted against the resolution included Jackson.
The resolution's sponsor, Rep. David Leitch, R-Peoria, said the proposed changes to the code are "so substantial that they should have the sunshine of the legislative process, instead of the less open rule-making process." Another change under the proposed update to the fire code is that churches would no longer have an exemption from sprinkler requirements.
Leitch added: "This happens from time to time, where something gets enacted by rule, and the legislators' phones ring off the hook from people saying, 'What in the world are you guys doing there in Springfield?' We often don't know anything about it because it's a rule that has been enacted somewhere."
Under the rule-making process, state agencies must get changes approved through the legislature's Joint Committee on Administrative Rules, also known as JCAR. The bipartisan committee is made up of 12 legislators.
Leitch said the JCAR process is a good one, but it's not as open, and doesn't allow as much citizen input as the law-making process. JCAR can stop a rule from being enacted only by a three-fifths vote, and only if the proposed rule "constitutes a threat to the public interest, safety or welfare."
Leitch said all his resolution would have done was let the General Assembly decide the issue. If lawmakers want to require sprinklers in new homes, so be it, he said.
Opponents of Leitch's resolution included the fire marshal's office.
"I think he recognizes that many of these provisions would be extremely controversial, and expensive," Leitch said.
George Korda, the legislative liaison for the fire marshal's office, said Matkaitis isn't trying to hide anything. Korda said every detail about the code update is spelled out clearly and completely on the fire marshal's website.
"We've not hidden our intentions at all," Korda said. "The state fire marshal has been very transparent in his approach to the way we've done this."
Korda said with the JCAR process, the General Assembly does in fact determine the outcome. He noted that Leitch himself is a member of the JCAR panel.
"At the end of the day, the General Assembly is going to make the determination," Korda said. "We've been doing it this way for 104 years. If it's not broke, why fix it?"
Also opposed to Leitch's resolution was the Illinois Firefighters Association, whose lobbyist, Margaret Vaughn, said firefighters "are the ones who have to run into burning buildings and put their own lives at risk."
Vaughn said smoke detectors are helpful, but a residential fire doubles in size every minute or so. She said unlike in movies, not every sprinkler in a building is activated during a fire, causing unnecessary water damage.
"Just that sprinkler head goes off, and it immediately extinguishes the fire below it," Vaughn said.
Vaughn said insurers give a discount for insurance on homes with sprinklers, so the installation cost "would kind of cancel itself out."
She also said the rule-making process is nothing new: It's the way state agencies regulate school construction, plumbing codes, carnival rides, etc.
"This is why they have building codes. It's a safety issue," Vaughn said.
More than 90 Illinois communities already have their own regulations which require fire sprinklers in new homes, Vaughn noted. Those communities are predominantly in the Chicago area; the only one outside the Chicago area is the city of Normal.
The fire marshal's office says the national average for installing sprinklers in a new home is $1.61 per square foot, which would come to $3,220 for a 2,000-square-foot home.
Bill Ward, executive vice president of the Home Builders Association of Illinois, disputes those cost figures. Ward said he saw a contractor's estimate of $6,000 from just a few days ago, for sprinklers in a home being built in the metro-east.
"That's the lowest I've seen," he said, adding that his group predicts the cost could be as much as $15,000 for larger homes.
Ward said the National Fire Protection Association stated in a 2010 publication that a person's chances of surviving a fire are 99.45 percent in a home with smoke detectors.
"The state fire marshal wants Illinois home-owners to pay thousands of dollars more to improve on 99.45 percent. That just is not a reasonable idea," Ward said.
Illinois had about 45,000 single-family homes built in both 2000 and in 2005, Ward said, but the number fell to about 6,500 in 2011 and to about 8,000 in 2012. Ward said requiring sprinklers can only further hurt the construction totals.
"Only two states have done what our fire marshal wants to do: California and Maryland," Ward said. "But they went through their legislature. Ours isn't going to do that, he's going to take it through JCAR because he doesn't want it illuminated."
Ward said Missouri has a better solution. There, he said, a home builder is required to offer a sprinkler system as an option for the buyer, but the buyer decides whether it gets installed.
"I think that's a good middle ground on this," he said.
Contact reporter Brian Brueggemann at bbrueggemann@bnd.com or 239-2511. ___