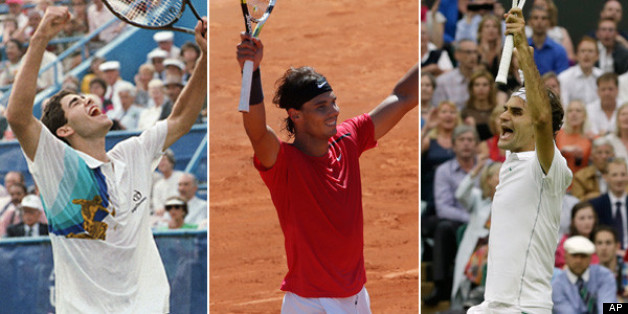 The greatest show on clay returns to Roland Garros.
After missing the last two Grand Slams and the London Olympics due to injury, Rafael Nadal is back looking to add to his record of French Open titles. Not only is he a seven-time French Open champion, he is 52-1 at Roland Garros. No player has dominated on the clay surface as much as Nadal. Out of the 306 matches he has played on clay, he has only lost 21 of them and has won 41 career titles, per ATPworldtour.com.
That's why he has been dubbed the "King of Clay."
"How discouraging is it to play Nadal on this surface?" Hall of Famer John McEnroe said in June 2012, via The New York Times. "I played Borg in my day, and he was like a human backboard. The way Nadal puts away a shot -- shots that seemed impossible when I was playing -- is unheard of."
On grass or hard court surface, however, it's a different story.
Roger Federer, who has a record 17 Grand Slam titles, won most of them on the grass at Wimbledon. Seven to be exact (tied for the record). He is 117-17 on grass with 12 career titles, per ATPworldtour.com. On the hard surface, it has been anyone's game.
Below is a list of the players who have dominated each Grand Slam. How long will it take for these records to be broken? Will anyone prevail at a particular Grand Slam as much as these stars?
PHOTO GALLERY
Grand Slam History