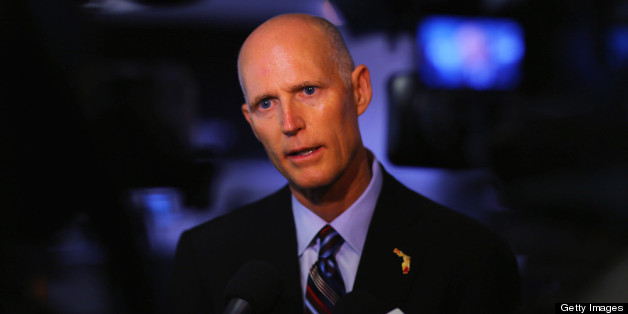 Gov. Rick Scott doesn't appear to be in any hurry to speed up the state's death penalty appeals process.
The Timely Justice Act passed both houses of the Florida Legislature in late April, but nearly a month later, Scott has still given no indication whether he has studied the bill or intends to sign it.
Forty percent of the 406 condemned prisoners awaiting execution in Florida have been there 20 years or more. The bill would require the governor to sign a death warrant within 30 days after all appeals are concluded and the governor has reviewed clemency.
State Rep. Matt Gaetz, a leading sponsor of the Timely Justice Act, said it would reduce a death row inmate's ability to file what he called "motions for delay," legal challenges that have no bearing on the defendant's guilt or innocence.
Detractors say the law, if enacted, would give the state less time to recognize that an innocent person has been convicted. Florida leads the country in death row inmates who were later exonerated, acquitted or had their charges dropped, with 24 such cases.
"We want to hear from Floridians about the merits of this legislation, which our General Counsel's office is currently reviewing," said governor's spokeswoman Jackie Schutz.
The governor has until mid-June to decide whether to sign or veto the bill.
Political analysts are hesitant to predict what Scott will do. A tough stance on the death penalty is a typical conservative position, they say. But a sitting governor might also be unwilling to sign a law that would remove some of his own power to use discretion while exercising a profound duty.
Preparing for what's likely to be a challenging re-election campaign next year, Scott has room for flexibility with the death penalty in a politically moderate state that went Democratic in the last two presidential elections but Republican in the last four gubernatorial contests.
"I'm not surprised that he hasn't jumped full force into the death penalty debate," said Susan McManus, a political science professor at the University of South Florida. "I don't think it's an issue he feels as passionately about as the economy. He didn't run on it. It wasn't his issue."
She said she anticipates the governor will sign the bill, but qualified that prediction as a "guess."
Florida has a history of bipartisan support for the death penalty, said Lance deHaven-Smith, a Florida State University public policy professor. During the 1994 election cycle, Democratic Gov. Lawton Chiles once shook off an attack ad run by his opponent, Republican Jeb Bush, by reminding voters that he had sent eight inmates to their deaths in his first term. Chiles won re-election.
"The governor doesn't have to rush into a decision," said deHaven-Smith. "My assumption would be that he's being careful. There are questions about whether this bill is going to run over people's rights. The decision to put someone to death is irreversible, after all."
Scott's support of the death penalty has been pragmatic. "It takes a toll on you," he said after signing his first death warrant in 2011. "It's something you really need to think about. You've got to be very cautious about it. And it's the law of the land." Scott has signed 11 death warrants since becoming governor, five since January.
Florida House Minority Leader Perry Thurston said the governor is right to be taking his time considering the merits of the Timely Justice Act.
"Politics tells you a conservative Republican is going to sign a bill that speeds up the death penalty," Thurston said. "But this is a really bad bill in a state that's notorious for getting it wrong. ... Sure, it would be another notch for his conservative credentials, but who needs that? He doesn't, frankly."
raolmeda@tribune.com, 954-356-4457 or Twitter @SSCourts ___
BEFORE YOU GO
PHOTO GALLERY
Countries With The Most Executions Last Year