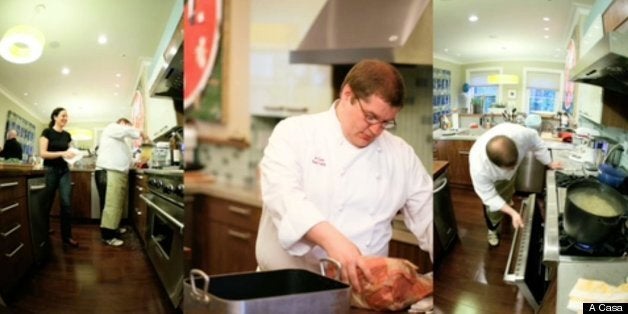 In Italian, "a casa" means "at home." This translation makes Paul Lang's private wine dinners with A Casa NYC make linguistic sense as well as gastronomic sense.
Lang's journey to your at-home wine dinner will make you trust his opinion. He spent time eating and cooking in Italy, and worked as sommelier at Mario Batali and Joe Bastianich's flagship, Babbo. After meeting with you to discuss your tastes and preferences, Lang pairs a multi-course meal with the perfect wines for your occasion, brings the food, drinks, servers and even entertainment -- his wife Blythe Gruda will sing all your favorite songs. We caught up with Paul to find out why he started bringing the party to his customers, what he loves most about these dinners and asked him for a few tips on picking great wines.
You studied film -- was there an "AHA" moment when you realized that you wanted to work in food instead? Something you ate, a conversation, etc.?
One of my first aha moments came at Osteria Giusti, a mythical lunch-only restaurant in Modena. I was drinking Lambrusco and had ordered Gnoccho Fritto, little fried dough clouds topped with salumi. By the time time the plate made it to the table, the meat (really the fat) had started to melt into the fried dough. Eating the Gnoccho Fritto and drinking the punchy Lambrusco caused an explosion in my mouth. I had never experienced anything like it. Something so simple had made me think differently and that was a feeling I knew I wanted to have as many times as possible.
You have both food and wine experience -- what drew you to work as a sommelier as opposed to a chef?
As a chef there's an immediacy to what I do. Often times in front of a client I'm making fresh pasta or filleting a fish that they're tasting only minutes later. And there's great joy in seeing people's faces when eating my food. But with wine there's a dark, corked bottle that may have been sitting for years. I feel it's my duty as a sommelier to act as the wine's spokesperson. To connect the customer with the farmer who picked the grapes lying on his back at the top of the Alps. Or the grandmother who decants each bottle by hand to filter out sediment. Or the texture of the soil filled with ocean fossils from centuries old vineyards. There's a context in wine that's often overlooked and I love filling that void.
What do you like most about hosting private events, and would you ever go back to working in a restaurant as either a chef or sommelier?
A Casa is unique because it's like having the only table in your favorite restaurant. In that restaurant there are a lot of rules that can't be broken. Obviously there are rules and formats I keep, but the focus is only on you. I'm in your kitchen cooking only for you. I'm there to pair and pour wines just for you. The servers are serving only you. And Blythe is singing your favorite songs. I can't think of many other experiences anywhere that can rival that...
Can you tell us a little bit about the book you're working on?
The book is a culmination of everything A Casa is becoming. It will include musings of my travels and how experiences with food, wine, art and music all connect and inspire the world around us. Blythe and I are working on an A Casa Podcast including interviews, food and wine discussions, sharing recipes and stories and Blythe will sing. We've started a travel company called A Casa in Italia. The first trip to Tuscany is in the Fall and we're planning to do a few each year. I'd like to write about those travels.
What's your favorite A Casa event you've ever hosted?
My favorite events have been when my wife Blythe Gruda sings at the dinners. She's my secret weapon. She's the most beautiful and honest singer you'll ever hear and I always get out-shined.
It's also a tough question because A Casa is a completely different event every time. Sometimes they are beautifully intimate, sharing stories and talking about how something you ate changed your life and how happy you were or that it made you think differently about food or wine or life. At an anniversary dinner for a couple, it was special because I helped them have a great memory. At a dinner for 12 for a group of old friends who were serious wine collectors, the looks on their faces when I revealed that the wine they loved the most was from Long Island. Obviously when you put your passion and creativity into something and someone receives it with understanding it makes a big difference.
We've all seen a look of panic wash over someone's face when handed a wine list. At restaurants without sommeliers, are there any surefire ways to pick a great wine?
Be adventurous. Pick a wine you've never heard of. If you love it, you've made a new discovery and that's what it's all about.
BEFORE YOU GO
PHOTO GALLERY
Cheap Wine vs. Expensive Wine