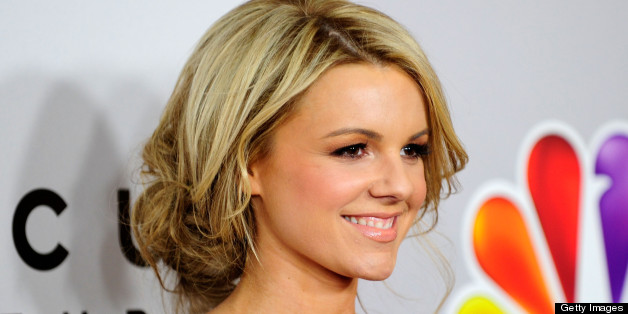 "Hollywood Unplugged," a new series on HuffPost Entertainment, shows our culture's most influential figures in a new light. Instead of focusing on their accomplishments, it examines how they continue to thrive despite the inevitable stress.
Ali Fedotowsky is no stranger to the small screen. America fell in love with her as a contestant on ABC's "The Bachelor," and as she embarked on her own quest for love on "The Bachelorette." Though her reality dating days are over -- for now, at least -- she's not done with TV just yet. The 28-year-old former Facebook employee is often on the road filming her NBC travel show, "1st Look," and knows a thing or two about managing her stress level while on the road. Fedotowsky let The Huffington Post in on a few of her secrets to remaining calm and stress-free -- her secret weapon: red wine -- for "Hollywood Unplugged."
The Huffington Post: How do you know when it's time to unplug and recharge?
Ali Fedotowsky: I honestly don't think I've figured that out yet! It's so hard for me to put down my phone and disconnect from the digital world. I'm the type of person who has trouble sitting through a movie without checking my email on my phone.
What's the first thing you reach for when you need to decompress?
Red wine. I'd like to take this opportunity to thank the first doctor who said that a glass of red wine before bed is good for you.
If you had to pin an inspirational saying to the wall, what would it say?
"You only live once, but if you do it right, once is enough."
Whose ability to balance work and life do you envy?
Giuliana Rancic and Sheryl Sandberg. I've looked up to Sheryl for years, ever since I worked at Facebook and saw firsthand how she was able to balance her family life and professional life. She truly is inspiring.
Giuliana is equally as inspiring. I believe she has four TV shows that she juggles and still manages to put her family first. I definitely aspire to achieve the personal and professional success that Giuliana has. Plus she is just a sweet person. That's admirable in itself.
Where do you go when you need a change of scenery?
I rarely "need" a change of scenery since I'm constantly traveling for work. If anything, when I get time off, I have a "staycation" and relax at home rather than go on a vacation. But when I do take off for a little rest and relaxation, I love the Villa La Estancia resort in Nuevo Vallarta, Mexico. It's the best. I hope to plan a mini-vacay there soon.
What do you do when anxiety is keeping you up at night?
Play phone games. I'm a dork, I realize this. And my guess is that the phone games probably just exacerbate my anxiety, but oh well.
What's your secret to staying serene on the road?
Music and getting enough sleep. I travel constantly for my lifestyle/travel show, "1st Look" so I frequently switch time zones. I wish I could say that yoga or meditating helps me sleep so I can sound all natural and in-tune with my body, but nope. I try to adjust to time zones by forcing myself to get up really early, drinking loads of coffee, and hopefully passing out that night. And music. When I'm on the road and stressed, I put in my headphones, listen to my favorite bands, and just walk aimlessly through whatever city I happen to be filming in. It's one of my favorite things to do.
What song, TV show, book or work of art lowers your blood pressure?
One of my favorite bands, Tommy and the High Pilots, does a cover of "This Must be the Place" (originally by Talking Heads) that I completely chills me out. Mentally, it takes me to another place.
What advice would you give your stressed-out self?
I heard this quote on an episode of "Extreme Home Makeover" years ago, but it has stuck with me: "There are a lot of things to think about, but nothing to worry about."
PHOTO GALLERY
Celebrity News & Photos
BEFORE YOU GO