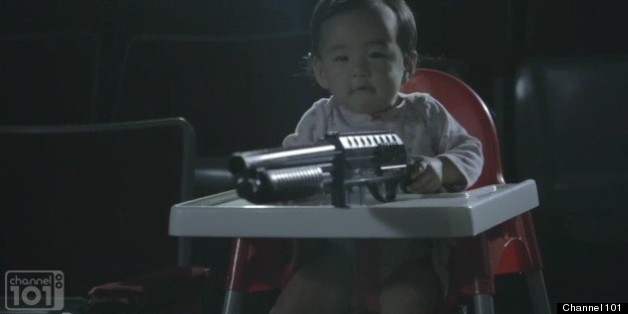 When it comes to careers in Hollywood, sometimes it's best to get them started young.
That's the philosophy actor Randall Park seems to be following with his daughter, Ruby. The pre-verbal, pint-sized actress just celebrated her first birthday this month, but she's already starred alongside her father in five web shorts as "Baby Mentalist" -- the wily, gun-slinging infant who helps her LAPD officer dad crack tough cases with her coos, yawns and giggles.
In the video below, Ruby investigates a children's show host linked to a string of murders perpetrated by children. While the adults around her are loathe to link fun-loving Kyp to the grisly crimes, only Baby Mentalist has the tenacity to spot the children show's subliminal messages.
WATCH (warning: graphic language, adult subjects)
Randall Park's most recent TV credits include "Veep" and "The Mindy Project," but there's something about Ruby's performance as "Baby Mentalist" that makes us think she'll eventually have a longer IMDB list than her Daddy.
Scenes of children handling guns in "Baby Mentalist" may be disturbing to some, but Park isn't the only Hollywood dad to feature his toddler in mature content comedy. The web's most notorious example? Funny or Die founder Adam McKay's "Pearl The Landlord" series, which features his two-year-old daughter as a foul-mouthed landlady who makes Will Ferrell cry.
Of course, kids don't need to have acting chops to be hilarious on camera. Check out this slideshow of the cutest baby videos of 2012 and let us know in the comments below: does "Baby Mentalist" win your heart?
PHOTO GALLERY
2012: The Year In Cute
BEFORE YOU GO
PHOTO GALLERY
Baby Photobombs