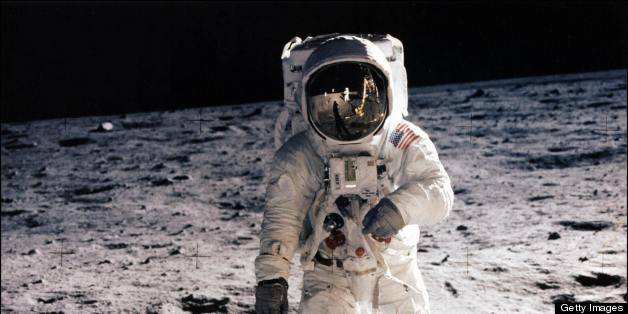 Though the first humans on the moon were men, the mission wouldn't have been a success without a certain team of women.
The women who created the Apollo spacesuits were lingerie seamstresses, who used the techniques they learned sewing bras and girdles to fashion the gear Buzz Aldrin and Neil Armstrong wore on the moon. Now it looks liketheir story will be told in a movie adaptation of Nicholas de Monchaux's 2011 book "Spacesuit: Fashioning Apollo." According to Space.com, Warner Bros. Pictures has hired screenwriter Richard Cordiner to work on the script.
"The Playtex lingerie team were considered the "underdogs of the space suit project," Elizabeth Licata of The Gloss wrote this week, beating out military contractors and industrial designers. But the choice makes sense to Licata, who noted: "When you need something sewn to exact specifications, with lots of fiddly bits and shaping and unconventional materials, look for a lingerie maker."
"The actual spacesuit [was] this 21-layered messy assemblage made by a bra company, using hand-stitched couture techniques," de Monchaux said in a 2011 interview with BLDGBLOG.
In March 2011, de Monchaux told NPR that the original seamstresses are still alive and well, creating shuttle suits in Dover, Delaware.
We hope they'll be the guests of honor at the movie's premiere.
BEFORE YOU GO
PHOTO GALLERY
Women In Space