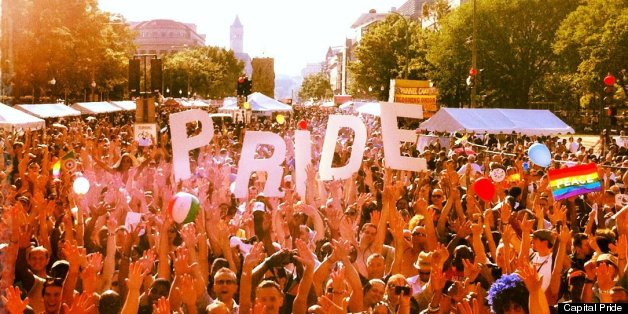 WASHINGTON -- Capital Pride kicks off May 29 and runs for 12 days. Whether you want to gather with your faith community, chat with Mayor Gray, break a sweat or just party, there are multiple events each day to celebrate the D.C. LGBT community. In order to get a well-rounded experience, here are our picks for Capital Pride 2013.
Wednesday, May 29
Heroes Gala at The Powerhouse in Georgetown
This annual Pride event will honor work by Ed Bailey, Barbara Lewis, Darren Phelps, Jamie Raskin, Margot Rosen, Consuella Lopez, Hassan Naveed and Jennifer Hall in the LGBT community. 7 p.m., 21+, $55
Thursday, May 30 - Saturday, June 1
2013 DC Queer Theatre Festival at The Meade Theatre Lab
The second annual DC Queer Theatre Festival will highlight underrepresented voices in the theater scene. In addition to plays there will be readings and panel discussions. 8 p.m., all ages, $16
Friday, May 31
Town Hall with Mayor Vincent Gray at John A. Wilson Building
The Washington Blade is hosting this town hall meeting with D.C. Mayor Vincent Gray. 7 p.m., all ages, Free
Sunday, June 2
Day In The Park at Stead Park
Following the 3rd annual "Drag Ball Game" will be games for all attendees, a picnic and an outdoor movie. 6 p.m., all ages, Free
Tuesday, June 4
Pride Week Interfaith Service at First Congregational United Church of Christ
The 30th annual Pride Week Interfaith Service will be led by Reverend Harry Knox and feature Shirli Hughes & Ovation. 7:30 p.m., all ages, Free
Friday, June 7
Spandex: Official Opening Superhero Party at Wonder Bread Factory
We're fans of Pride parties, fans of party producers Brightest Young Things and big fans of "RuPaul's Drag Race" winner Sharon Needles. Put them all together in a recently restored bread factory and you're guaranteed a good time. 9 p.m., 18+, $20 in advance, $25 day of
Saturday, June 8
Pride Parade at DuPont and Logan Circle, 22nd and P Streets, NW
The flagship event for the two-week celebration is almost mandatory to attend. 4:30 p.m., all ages, no cover.
Sunday, June 9
Pride Festival at Pennsylvania Ave NW between 3rd and 7th Streets
A giant street festival on Pennsylvania Avenue NW downtown that happens to be gay friendly and family friendly, but not pet friendly (the asphalt gets too hot for paws), this event is estimated to be attended by 150,000. 12 p.m., all ages, suggested donation
BEFORE YOU GO
PHOTO GALLERY
26th Annual High Heel Race