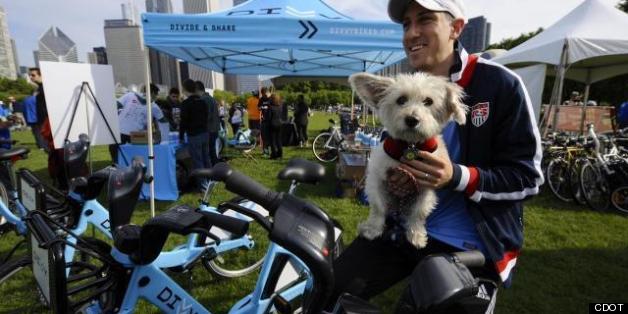 An army of blue bikes rolled into town over the Memorial Day weekend as the launch date of Chicago's first large-scale bike share program creeps closer.
Participants in the annual Bike the Drive event got a preview of the Divvy bikes, which made their first public debut Sunday at the Memorial Day weekend fundraiser.
Divvy teased the weekend arrival of the bikes last Friday via Twitter:
Divvy is getting ready for its big debut on Sunday. #nofilter twitter.com/DivvyBikes/sta…

— Divvy Bikes (@DivvyBikes) May 24, 2013
StreetsBlog Chicago's Steve Vance tested the rides and wrote the adjustable Divvy bikes are "good-looking, sturdy, and comfortable," adding the bikes "weigh about 45 pounds." According to the Tribune, CDOT leaders hope Divvy takes off as a "popular 'bike taxi' option for short trips."
This weekend, the Chicago Department of Transportation also debuted a map of the 75 initial bike stations and projected stations that may be installed in the future.
According to the map, the docking stations will be heavily concentrated in the early phases near downtown transit hubs like Union Station, Ogilvie Transportation Center, Metra's LaSalle Street station, Millennium Station and Millennium Park as well as Navy Pier, the Museum Campus and the McCormick Place Metra station.
(See CDOT's map of Divvy Bike Share's initial 75 locations.)
Additionally, Divvy announced via Facebook founding memberships for the service are set to go on sale later this week.
For a $7 daily pass or $75 yearly membership, users can pick up a Divvy bike from a self-service docking station for unlimited trips up to 30 minutes each; after the ride, bikes can be returned to any other station near their destination.
Funded by a mix of TIF money and federal grants, the budgeted cost is roughly $22 million and is "expected to pay for itself" over time, according to CDOT. The program is slated to expand each month, totaling 4,000 bikes at 400 solar-powered locations in city neighborhoods by spring 2014.
Divvy hasn't offered up a firm start date ("Summer 2013" and "June" were as specific as they've been) but seeing as both benchmarks are on the horizon, expect to see the blue bikes on the street in the next few weeks.
BEFORE YOU GO
PHOTO GALLERY
How To Bike Commute Like A Pro