The National Weather Service issued a tornado warning on Tuesday afternoon for Corning, Kansas.
According to the warning, sources say a tornado was spotted 3 miles west of Corning around 4:16 p.m. local time.
The National Weather Service confirmed a tornado on the ground near Goff, Kansas at 5:06 p.m. local time. The tornado warning for the area has been extended to 5:45 p.m. [Story continues below.]
Photos courtesy of WIBW.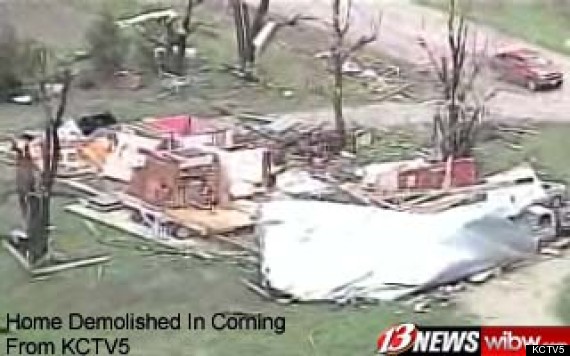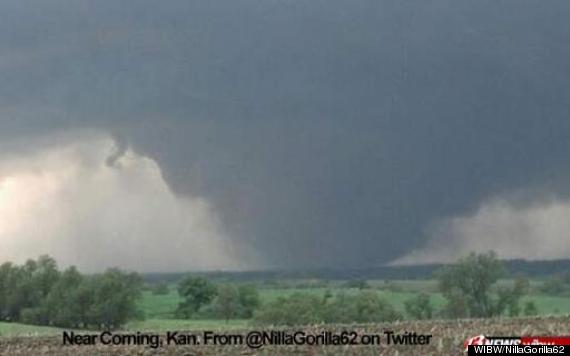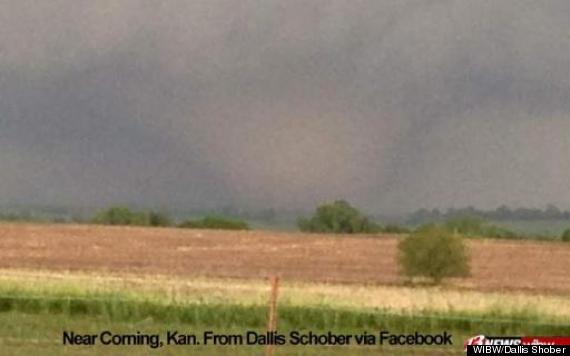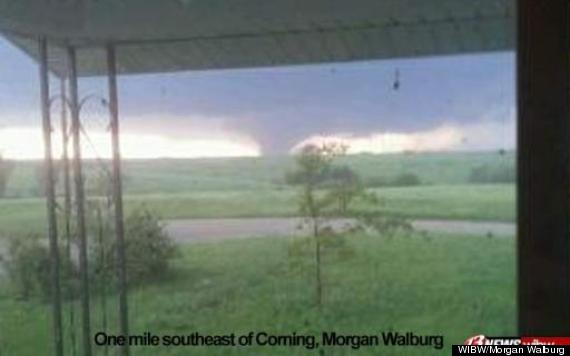 The National Weather Service reports on the potential tornado:
HAZARD...DAMAGING TORNADO.

SOURCE...WEATHER SPOTTERS CONFIRMED TORNADO. THE TORNADO WAS
REPORTED 3 MILES WEST OF CORNING AT 416 PM.

IMPACT...YOU ARE IN A LIFE THREATENING SITUATION. MOBILE HOMES WILL
BE DESTROYED. CONSIDERABLE DAMAGE TO HOMES...BUSINESSES
AND VEHICLES IS LIKELY AND COMPLETE DESTRUCTION POSSIBLE.
FLYING DEBRIS WILL BE DEADLY TO PEOPLE AND ANIMALS. EXPECT
TREES TO BE UPROOTED OR SNAPPED.

* LOCATIONS IMPACTED INCLUDE...
CORNING AND GOFF.

PRECAUTIONARY/PREPAREDNESS ACTIONS...

TO REPEAT...A LARGE...EXTREMELY DANGEROUS AND POTENTIALLY DEADLY
TORNADO IS ON THE GROUND. TO PROTECT YOUR LIFE...TAKE COVER NOW. MOVE
TO AN INTERIOR ROOM ON THE LOWEST FLOOR OF A STURDY BUILDING. AVOID
WINDOWS. IF IN A MOBILE HOME...A VEHICLE OR OUTDOORS...MOVE TO THE
CLOSEST SUBSTANTIAL SHELTER AND PROTECT YOURSELF FROM FLYING DEBRIS.
The Weather Channel reports that the tornado did not make it into Corning:
Reports: Large #tornado near Corning, KS did not make it into the town itself. Parent cell reorganizing, another tornado could form. (4:52p)

— TWC Breaking (@TWCBreaking) May 28, 2013
News sources say that no injuries were reported from the possible tornado, but there was some damage:
Possible tornado flattens buildings near Corning, KS. Thankfully no one hurt. See the incredible damage on KCTV5.com

— KCTV5 - Kansas City (@KCTV5) May 29, 2013
The following unconfirmed photos were shared on Twitter:
#Tornado Picture: Confirmed Tornado on ground in Corning KS. Eye witness pic submitted to @wibwweather twitter.com/planforemergnc…

— Plan For Emergency (@planforemergncy) May 28, 2013
#13swad tornado view from northeast of Corning twitter.com/jbergman89/sta…

— JBerg (@jbergman89) May 28, 2013
Funnel cloud photo taken south of Centralia, Kansas by Kaitlyn Becker #kswx twitter.com/WIBWweather/st…

— WIBWweather (@WIBWweather) May 28, 2013
This mother is huge twitter.com/NillaGorilla62…

— Ross Strathman (@NillaGorilla62) May 28, 2013
Tornado 5-28-13 by corning ks. twitter.com/Farmman12/stat…

— Ron Heinen (@Farmman12) May 28, 2013
BEFORE YOU GO
PHOTO GALLERY
Tornadoes & Clouds