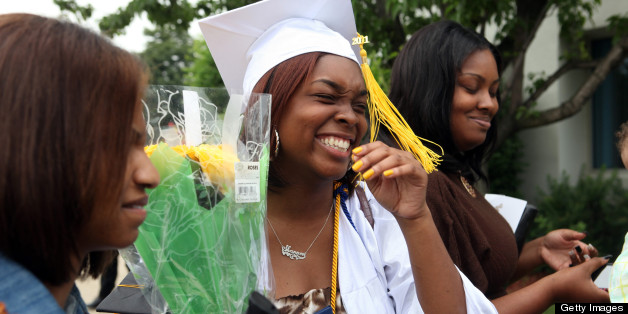 Despite a tense school year that included the city's first teachers strike in 25 years and the district threatening to close more than 100 of its schools before ultimately moving forward with their plan to shutter 50, Chicago Public Schools has hit a record high graduation rate.
CPS CEO Barbara Byrd-Bennett and Mayor Rahm Emanuel announced Tuesday morning the district is on track for a 63 percent five-year graduation rate -- a two percentage point increase over last year's record-setting rate and an estimated 19 percentage point increase over 10 years ago, according to CBS Chicago.
(Read CPS's news release on the graduation rate news.)
The district says attendance is also up: the district is on track for an attendance rate just under 93 percent this year, an increase over last year's 92.5 percent and the 2010-2011 year's rate of 91.7 percent, NBC Chicago reports. That's more than 4,000 of the city's children attending school regularly than two years ago.
Byrd-Bennett credited a longer school day and a more "rigorous curriculum" among the factors contributing to the improvement, according to DNAinfo Chicago. She was quick to add in a statement, though, that more work remained.
"This graduation rate is a testament to our hard-working students, educators and administrators, but we know there is more to do," Byrd-Bennett said in a statement.
Emanuel offered similar comments in a statement, describing CPS's 2013 graduates as "shining examples of the promise of Chicago's future" while also admitting "there is still more to do."
While CPS noted the projected graduation rate is its highest ever, it also clarified that the numbers date back to only 1999, when the district changed how it tracked graduation data, according to ABC Chicago.
And despite the improvement, CPS still trails the estimated national average graduation rate for incoming public school freshman of 78.2 percent, as of 2009-2010.
CORRECTION: A previous version of this story incorrectly stated that CPS's projected 2013 five-year graduation rate was a 44 percent increase over a decade ago. Instead, 44 percent was the district's estimated graduation rate in 2003.
BEFORE YOU GO
PHOTO GALLERY
Community Protests CPS School Closures