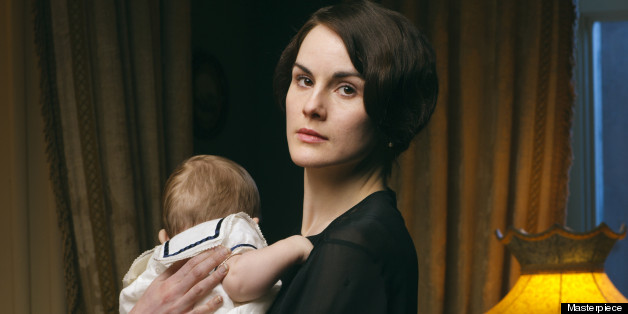 At the end of Season 3 of "Downton Abbey," Lady Mary (Michelle Dockery) became a single mother after her husband Matthew (Dan Stevens) died in a car accident. But is the widow moving on already when the show returns in January 2014?
When asked about a second wedding for Lady Mary in the show's upcoming Season 4, Dockery assured fans that her character "hasn't moved on that quickly" and that she will mourn Matthew properly. "The predicament that Mary's in now is that she does need to find someone eventually," Dockery explained to the LA Times. "She has the heir to Downton, she has baby George and she is under pressure to find someone. In that world, women had to find someone. It was all about marriage and who you'd spend the rest of your life with."
As fans know, Lady Mary will have no shortage of suitors in Season 4. "She's an eligible bachelorette," Dockery told the LA Times. "It's exciting. We've got some great actors joining the show."
Tom Cullen and Julian Ovenden will play two of those bachelors looking to win Mary's heart and hand in marriage. The former plays Lord Gillingham, a family friend of the Crawleys, and the latter is set to appear as aristocrat Charles Blake on Season 4 of "Downton Abbey."
But fans who were hoping Tom Branson (Allen Leech), who lost his wife Sybil (Jessica Brown FIndlay), Lady Mary's sister, due to complications during childbirth, would have a chance at romance with Lady Mary, in true soap opera form, shouldn't hold their breath. "Oooh, I can't do that," Dockery previously told TV Guide. "He's my brother-in-law!"
"While it would be great for drama, I don't think it would be right for those two," Leech told TV Guide. "As much as they respect each other, they come from very different worlds."
Lily James, cousin Rose, will join the cast as a series regular for "Downton Abbey" Season 4 and the show will introduce a bevy of new characters to spice things up. In addition to Cullen and Ovendon, Nigel Harman will play a new valet; Dame Harriet Walter will appear as Lady Shackleton, a friend of the Dowager Countess; Joanna David is playing Duchess of Yeovil; Dame Kiri te Kanawa will play a guest who sings at the house; and Gary Carr will play "Downton Abbey's" first black character, a jazz singer named Jack Ross. Look for Shirley MacLaine to return as well.
Two characters who won't be a part of "Downton Abbey" Season 4, however, are, of course, Dan Stevens and O'Brien (Siobhan Finneran). "I signed up to do three series and that was all I wanted to do," Finneran explained to the Daily Mail. "I had great fun doing it but I just didn't want to do it any more. I decided this before we even did the last series. When I stop loving something, I stop doing it."
"Downton Abbey" Season 4 premieres Sun., January 5, 2014.
PHOTO GALLERY
"Downton Abbey"
BEFORE YOU GO