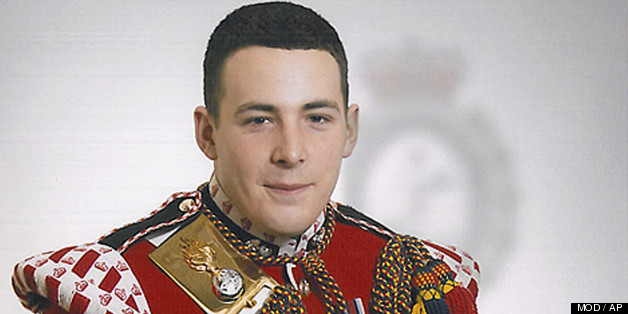 The website of the Help for Heroes military charity in Britain crashed last week -- but for a worthy cause: Donations flooded the site after British soldier Drummer Lee Rigby was murdered wearing a "Help for Heroes" shirt.
A spokeswoman told The Huffington Post that site glitches were recently smoothed over after Wednesday's tech failure.
Rigby, a 25-year-old father who served in Afghanistan, was allegedly hacked to death by two men with extremist links before horrified onlookers Wednesday in the Woolwich section of London.
"H4H has been the unexpected focus of this national outpouring of support and our team has rallied to man the phones, take the orders and re-establish our website," the charity said in a statement that appeared on its website Monday. "Our small team has responded amazingly and many others have helped us to react; thank you so much for your help."
The charity received an additional boost from a few famous Brits: Prime Minister David Cameron tweeted a photo of himself wearing a Help For Heroes wristband, and Oscar winner Helen Mirren was seen wearing a Help For Heroes polo shirt.
But not all contributions have been welcomed, according to reports. In a move that gained widespread attention in the United Kingdom, the group said it would not accept donations from the far-right English Defence League.
The shocking case has now ensnared 10 suspects. Two men suspected of carrying out the knife-and-cleaver attack -- Michael Adebolajo, 28, and Michael Adebowale, 22 -- were hospitalized after being shot by police.
Government officials said they knew Adebolajo had ties to al Qaeda, the New York Times reported. Both men were reportedly known to have demonstrated on behalf of extremist groups.
BEFORE YOU GO
PHOTO GALLERY
(GRAPHIC WARNING) Woolwich attack: Lee Rigby Murder