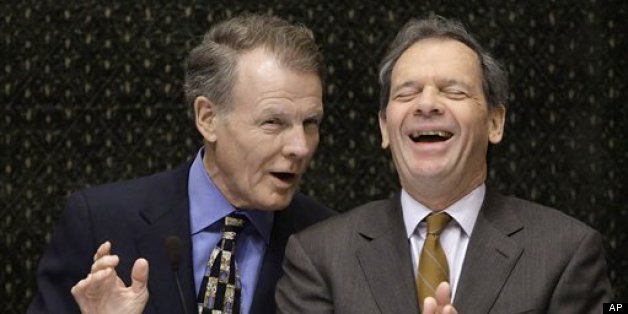 By Karen Pierog
CHICAGO, May 28 (Reuters) - With less than a week left to go in Illinois' spring legislative session, the future of reforms to rein in burgeoning costs for the nation's worst-funded public pension system rests with the two Democrats who run the state's House and Senate chambers.
The Illinois legislature, which over decades has built up a $100 billion unfunded pension liability, now is a study in gridlock. Speaker of the House Michael Madigan and Senate President John Cullerton each are pushing competing versions of a fix and each refuses to take action on the other lawmaker's bill.
There is no clear path toward resolution. A Madigan-backed bill is hung up in the Senate, where Cullerton controls the legislative calendar, and Madigan has Cullerton's plan bottled up in the House, which he controls.
House Republican Leader Tom Cross said the Democratic leaders have the power to take action and need to exercise it. "When the two of them want to accomplish something regardless of its magnitude they get it done," Cross said. "There is no upside to inaction."
Cross said he favors Madigan's bill, which is similar to one he sponsored earlier in the session.
Mike Lawrence, former director of the Paul Simon Public Policy Institute, said neither bill will budge without the support of the Democratic leaders.
"My view is this really rests with Cullerton and Madigan to work something out," said Lawrence, who also served as press secretary for former Republican Governor Jim Edgar. "But when you look at the two versions, it's pretty difficult to see how they would come to some compromise."
Despite pressure from credit rating agencies, business leaders, editorial boards and others, the two leaders have dug into their positions. They have until Friday to break the deadlock.
"We are still not seeing the needle move in support of (Madigan's bill) in the Senate," said Cullerton spokeswoman Rikeesha Phelon.
The Madigan bill, now sitting before the Senate, was passed by the House earlier this month. Madigan's representatives claim the bill would eliminate the state's $100 billion underfunding over 30 years but the bill's critics claim it violates the state constitution by requiring retirees to accept cuts to their pension benefits.
Phelon said Cullerton is resisting pressure to call for a vote on a bill "that he thinks isn't constitutional." A majority of the Senate's Democratic caucus opposes the bill as well, Phelon said.
The Cullerton plan, backed by the state's public employee unions, would lead to more modest cost savings than the Madigan plan. It allows workers to retain access to state-sponsored healthcare in retirement if they opt for pension concessions.
Madigan spokesman Steve Brown said the House prefers the bill it passed.
"I don't think the House is interested in a bill without much in savings," he said.
Madigan is willing to talk to Cullerton and other legislative colleagues, Brown said but the differences between the two bills "are pretty stark."
UNIONS BALK AT MADIGAN BILL
Unions have pushed hard against Madigan's bill and threatened a constitutional challenge in the courts if it becomes law. Lawrence said the constitutional issue makes the Madigan plan politically risky.
"The legislators are being asked to cast votes that could create enemies for them, and there is no guarantee the legislation they support will withstand judicial scrutiny," Lawrence said.
Cullerton's pension fix is believed more secure against any constitutional challenge because it offers an incentive - called a "consideration" in pension parlance - that is designed to persuade workers to accept changes in their pension benefits. Employees who agree to the changes would receive a benefit for doing so, and this tradeoff would help the law comply with the state constitution, legal experts say.
Meanwhile, Democratic Governor Pat Quinn has largely been sidelined. Quinn, in remarks to reporters after a speech in Chicago last week, said he is working around the clock toward a settlement of the pension problem, but the governor has taken no action in public.
"Quinn on pensions as far as I can see is not really a factor," said Christopher Mooney, a political scientist at the University of Illinois. "He'll sign whatever they come up with."
America's municipal bond investors are watching closely.
"They will have to come to some sort of agreement, or the market will take it out on them. You'll see Illinois paying higher yields," said John Mousseau, portfolio manager at Cumberland Advisors Inc.
Like many states, Illinois has seen a jump in revenues recently thanks to an improving economy, but Mousseau said the improvement is not significant to bond holders. "Revenues have improved but they still haven't wrestled with the 800-pound gorilla in the room," he said of the pension crisis in the state.
Investors have been demanding hefty yields for Illinois general obligation bonds. Illinois' bond rating is the lowest among states after credit rating agencies collectively downgraded the state a dozen times since 2008, and those agencies have warned that failure to fix the pension problem could result in further downgrades.
Illinois' so-called credit spread over Municipal Market Data's benchmark triple-A scale for the muni market hit 140 basis points in the latest week. That is the second widest spread after Puerto Rico among major muni debt issuers tracked by MMD.
The credit spread for California, which has taken steps to deal with its financial problems, is three times smaller than Illinois' at 45 basis points.
BEFORE YOU GO