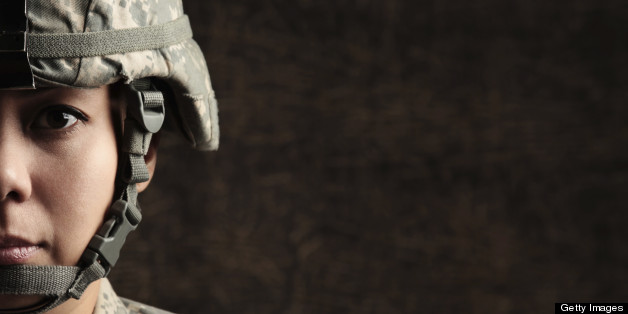 Danielle Abraham was pleasantly surprised when she received flowers from Dale Jones, a World War II veteran.
But for 18-year-old Abraham, Jones had given her so much more than flowers: He had told her his World War II stories, and in doing so shared a reality of war—and life—that she couldn't have learned from a textbook.
"Most of the things I have learned have been life lessons about what it means to be an adult," Abraham told TakePart. "Sometimes in life you have thing that happened that you get drafted into. Whether you have chosen the situation or not, there's a reason for it."
Abraham is a part of the Harlem Veteran Project at Harlem High School in Machesney Park, Ill., which has grown from a small independent study to a full-fledged community effort.
Three years ago, the program began with only eight students designated to collect and catalog personal stories from area WWII-era veterans, family members, and others in Winnebago County.
The project, initially funded through a grant from the Library of Congress, has blossomed over the past three years and today has 37 participating students, with more than 40 documentary interviews completed and sent to the Library of Congress. There are plans to finish 55 more.
"There is the need to preserve these stories," Nick Stange, one of the teachers involved in the project, said. "Without oral history, history is nothing but a dense fog. These are the stories that give the real and better details."
Stange recalled the story of one veteran who had helped liberate a concentration camp. The veteran gave a man, who had been held in the camp, a drag off his cigarette, and the man almost passed out because he was so unhealthy.
"That is a story they won't get in the history books and a story I won't be able to tell them," Stange said.
Senior Zach Wirtz, 17, remembered his older sister's involvement in the program when it was still in its infancy. When he was approached to participate, he jumped at the chance. He has helped to apply for grants for the program and plans to work all summer on interviews and editing footage to create the mini-documentaries.
"It's truly incredible to listen to someone firsthand about what they did during the war or what their family did," Wirtz said.
The project has spread via word of mouth. For instance, Wirtz said he made an announcement in his church for three weeks to find more veterans.
"We aren't waiting for people to come to us," Wirtz said. "The students are actively engaged in finding stories."
The students receive help with editing, filming and interviewing from nearby Rock Valley College, but every documentary, in the end, is fully student produced. All the interviews are done after school. Often, the students work on Saturday. Some students log more hours than teachers, Stange said.
Their work has paid off. Wirtz has helped get the program an "In Youth We Trust" grant. Earlier this month, the students traveled to Springfield, Ill., where they attended a Students' Showcase. Their veteran project won first and second place awards for veteran documentaries, eight honorable mention awards (out of a possible 10) and a special Home Front Award.
David Johnson, another teacher involved with the program, said the students now have their eye on a bigger project: a full-length documentary on World War II and its impact on Winnebago County citizens. The students want to show the film at Rockford, Illinois' historic Coronado Theater in the fall of 2014. But they need more resources, especially funding, to pull off the project.
For now, they have created a community advisory council that includes Midway Village, Rockford's history museum, which is allowing the students to use their archives. Veterans are also coming forth to share their stories because the students have made such an impression on their friends.
"This is an entire community project both financially and from a curriculum viewpoint," Stange said.
The students have learned about World War II from primary sources and the techniques of accurately interviewing a subject and documenting a story with video arts. They have also donated the largest contribution of such documentaries in the history of the Library of Congress.
But it's more than a class taken for a grade or to win awards. It's an invaluable experience.
"You make an incredible connection with your veteran, and when you meet them…they give you the gift of their story," Abraham said. "When you are able to give the veterans something back, like a documentary, it's very cool, and you feel happy that you can give them to them."
This story originally appeared on TakePart.com.
BEFORE YOU GO