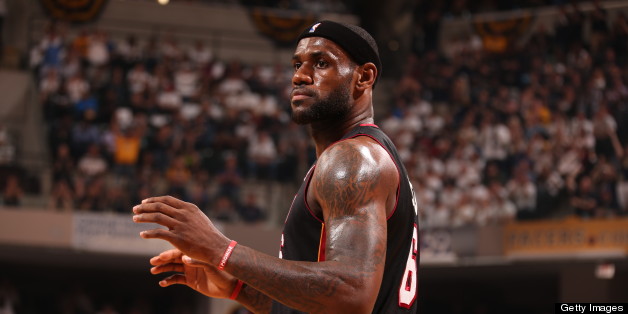 As far as LeBron James is concerned, flopping is "not even a bad thing."
The four-time NBA MVP offered his views on flopping at Miami's practice on Monday when Ken Berger of CBS Sports asked about the effectiveness of the NBA's anti-flopping policy.
"It's year one, so you're not just going to go cold turkey. Guys have been accustomed to doing it for years, and it's not even a bad thing," said James. "You're just trying to get the advantage. Any way you can get the advantage over an opponent to help your team win, then so be it."
The league implemented new anti-flopping rules for the postseason, fining a player for his first infraction. In the regular season, a player received a warning for a first offense.
Four players have been fined for flopping in the playoffs. Although none of those players are members of the Miami Heat, the defending champions have been accused of flopping.
Chicago Bulls coach Tom Thibodeau accused James of flopping after Game 3 of the Eastern Conference semifinals and ended up getting fined.
"I don't need to flop," James said, per the Associated Press. "I play an aggressive game. I don't flop. I've never been one of those guys."
Below are videos of a few plays where it appears that James may been " just trying to get the advantage." Where these flops? You be the judge.
PHOTO GALLERY
Is LeBron Flopping?