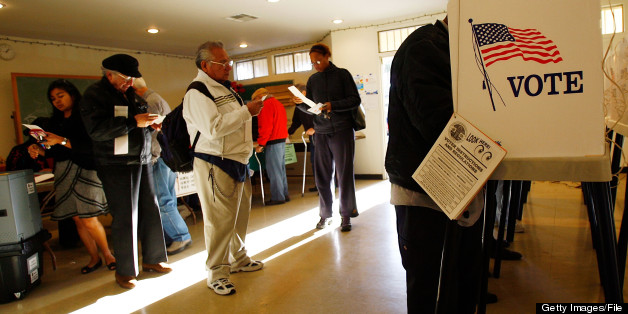 Latinos are a hot demographic these days. Political strategists are fighting to win the growing Hispanic electorate and corporations across the country want a piece of the Latino market and its estimated value of $1 trillion.
But those same people who want to tap the political and commercial power of the Latino population don't always seem very interested in what we have to say.
An article published by Bloomberg News on Tuesday about the White House's efforts to reach out to Hispanic business leaders to help pass immigration reform provides a case in point. Latinos are the subject of the story, yet none of the five sources quoted appear to be Hispanic.
It's a glaring omission, but Bloomberg is hardly alone in taking this approach. As political scientist Jaime Dominguez points out, broadcast news rarely features Hispanic pundits to discuss Latino politics either. Instead, that duty often falls to non-Latino think tankers and political strategists.
We don't think this needs to be the case. Believe it or not, there's plenty of Latinos out there who can explain Hispanic politics from the left, right and center. We've compiled this handy list to help you get started.
• Alberto Gonzalez. The first Hispanic attorney general may have a thing or two to say about Latino politics.
• Ana Navarro. The conservative strategist has an outsized Twitter presence.
• Angelo Falcon. Whatever the issue, you can be sure that the progressive Angel Falcón will give you a quotable statement.
• Antonio Villaraigosa. The outgoing mayor of Los Angeles may soon have more free time on his hands to comment on Hispanic political issues.
• Axel Caballero. The director of Cuéntame has a unique perspective culled from his experience as a human rights advocate serving the Latino community.
• Carlos Gutierrez. This Cuban-born businessman and former U.S. Secretary of Commerce is now running a political action committee to back Republicans who favor immigration reform.
• Dolores Huerta. The co-founder of the United Farm Workers union has 60 years of activism experience behind her.
• Israel Ortega. Need a conservative take on the Latino political issues of the day? Israel Ortega over at the Heritage Foundation will offer a thoughtful one.
• Javier Palomarez. The CEO/President of the Hispanic Chamber of Commerce.
• Jennifer Sevilla Korn. The former director of the center-right Hispanic Leadership Network is now working as the National Field Director for Hispanic Initiatives with the Republican National Committee.
• Julio Ricardo Varela. Want to hear from someone who won't mince his words? Give progressive blogger Julio Ricardo Varela a call.
• Marcelo Suarez-Orozco. One of the top immigration researchers in academia, Marcelo Suarez-Orozco currently serves as dean of UCLA's Graduate School of Education and Information Studies.
• Maria Teresa Kumar. The director of Voto Latino is also a contributor to MSNBC.
• Mark Hugo Lopez. If you want to know how the latest demographic trends will shape the Latino electorate, Mark Hugo Lopez can break it down for you with a minimum of political spin.
• Matt Barreto. This pollster has his finger on the pulse of the Latino electorate.
• Tony Diaz. If it has to do with intellectual issues, you can bet that El Librotraficante won't be shy about offering an opinion.
If you're still having problems, here's a bunch of organizations you can call too. They can help point you in the right direction, we promise!
• Americas Society/Council of the Americas
• Congressional Hispanic Caucus
• Latino Decisions
• LULAC
• Mexican American Legal Defense and Educational Fund
• The Mexican American Legislative Caucus of Texas
• National Association of Hispanic Journalists
• National Association of Latino Elected And Appointed Officials
• National Hispanic Leadership Network
• National Institute of Latino Policy
• Pew Hispanic Center
• Voto Latino
Still not finding who you want? Try heading over to this Poder 360 article on the most influencial Hispanics in the nation or the South by Southwest "Social Revolución" site for 2012 and just start reaching out to people at random.
We hope that helps!
Who are we missing? Send us the names of your top Latino political personalities in the comment section below.
BEFORE YOU GO
PHOTO GALLERY
Latino Winners And Losers In Congressional Elections