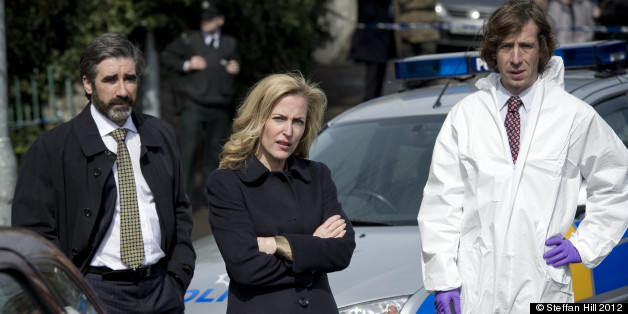 "The Fall" has been renewed by BBC. The drama, starring Gillian Anderson and Jamie Dornan, debuted on Netflix on Tuesday, May 28.
"'The Fall' has proved both a critical and ratings hit for BBC2 and another reminder of the resurgence of drama on the channel," BBC drama controller Ben Stephenson said in a statement. "With more of Allan Cubitt's intricate and thrilling plot revelations yet to unfold through the captivating performances of Gillian and Jamie, a second series is a must."
"The Fall" stars "X-Files" veteran Anderson as Stella Gibson, a detective hunting a serial killer (Dornan) in Belfast.
The actress, who can next be seen in NBC's "Crisis," told The Huffington Post that the character of Stella attracted her to the project.
"I find her so intriguing and I still find her quite mysterious and I think that's quite unusual for a contemporary drama. I like the way she handles situations and I thought I kind of need to be this person for a while," she said. "Obviously, the scripts themselves were very well-written, very compelling, very emotionally engaging. I knew that after having conversations with [the minds behind "The Fall"] that they had similar ideas as I did about how it should be shot and once we were all on the same page, it just seemed like something I couldn't not do."
No word on whether "The Fall" Season 2 will make its way to Netflix.
PHOTO GALLERY
NBC's New Shows 2013-2014
BEFORE YOU GO