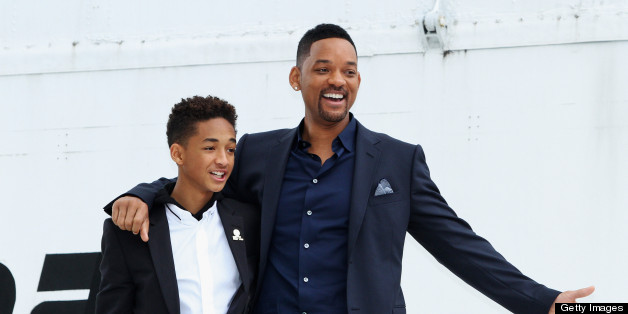 Will Smith knows that neither he nor son Jaden Smith will probably win an Oscar for their performances in "After Earth." Not that it has anything to do with their performances.
"Almost 90 percent of the time, [Best Actor Oscars reward] mental illness and historical figures, right?" the elder Smith told New York Magazine in a new, wide-ranging interview with both father and son. "So, you can be pretty certain of that if you want to win -- as a man; it's very different for women. The patterns are all over the place, but for whatever reason, it's really difficult to find the patterns in Best Actress."
Smith, 44, and son Jaden, 14, star in the science-fiction blockbuster, which focuses on the relationship between a father and son after they crash land on the remnants of Earth and must fight for survival. Smith's real-life relationship with Jaden -- as well as daughter Willow and wife Jada-Pinkett -- has become tabloid fodder in recent years, but according to the star, his family is the very definition of normal. Well, sort of.
"I think that if you were to come to the house, people would really be ­surprised at how simple and basic it is," Smith said. "Our whole dream for our home was for it to be an artist's haven. So there are paint supplies; there's a piano with a microphone and a recorder right there to capture things right in the second. There's editing equipment. There are cameras. I think the only thing in our house that people would be surprised by is the efficiency [...] [and] how serious we are about how the microphone at the piano has to be on and the recorder has to be ready to go for when somebody gets an idea. The paint supplies have got to be kept up -- you know, you cannot go to paint something and a color's empty."
Smith and Smith have enjoyed some quality time on the press tour for "After Earth." The father and son appeared at the UEFA Champions League Festival for a special event. On a recent episode of "The Graham Norton Show," meanwhile, Will and Jaden performed the theme song to "The Fresh Prince of Bel Air" together. (Bradley Cooper doing the Carlton dance in the background, FTW.)
For more from Smith and Smith, including why Will allowed Jaden to perform on a set covered in poisonous snakes, head over to Vulture.
[via Vulture]
PHOTO GALLERY
Celebrity News & Photos
BEFORE YOU GO