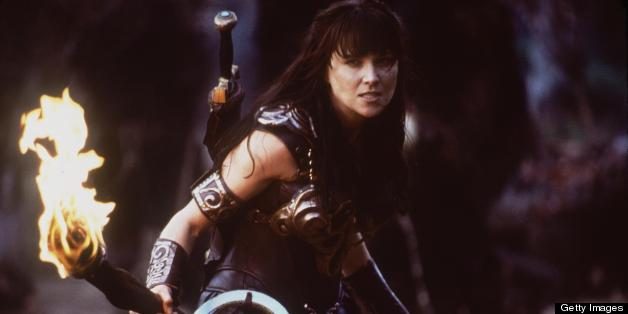 You can't keep a good warrior princess down -- "Xena" may be coming back with a revival!
Twelve years after the series ended, Lucy Lawless took to Twitter to reveal a bit of news to make Xenites everywhere erupt in a joyous battle cry.
Had an interesting call from a chap who wants to re-invigorate the #Xena brand. You guys may have started something.

— Lucy Lawless (@RealLucyLawless) May 23, 2013
But there's a lot of red tape around #XWP so don't get your knickers in a twist. It may come back in a different form.

— Lucy Lawless (@RealLucyLawless) May 23, 2013
@apasniutkanos it's too good a property to waste. I'll let you know when we know anything.

— Lucy Lawless (@RealLucyLawless) May 28, 2013
"Xena: Warrior Princess" ran for six seasons between 1995-2001. Though the show ended with the title character dead, her spirit traveling with Gabrielle (Renee O'Connor), the characters were revived in a comic book series from Dynamite Entertainment in 2007.
In 2012, Lawless spoke of the prospects of "Xena: Warrior Princess" coming back with a movie or reunion. "That would have been really fun ... The whole trouble with it was there was some sort of glitch in the paperwork in ownership," she told The Huffington Post. "The movie company doesn't own all the rights to it and they don't want to share, so -- it's just kind of gone sour for all these years. I shouldn't say they don't want to share, but there's not enough in it for them if they have to share the rights with somebody else. By the time somebody realizes it's a completely wasted franchise and they should reinvigorate it, I'm too old to play her."
PHOTO GALLERY
2013 Renewal Index: Canceled, Renewed & On The Bubble Shows
BEFORE YOU GO