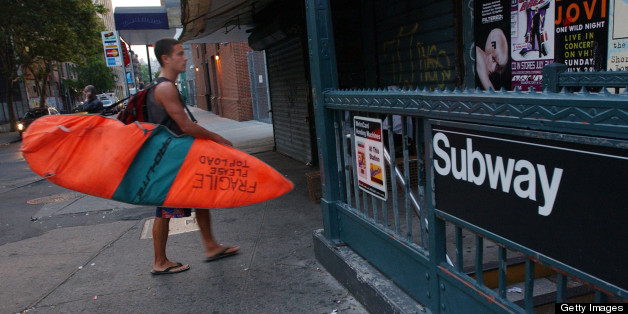 Rejoice, surfers and Rockaway residents! The MTA will resume regular A train subway service to the Rockaways, which was suspended after the line was damaged by Hurricane Sandy, on May 30. That's tomorrow -- a month earlier than prognosticators had expected as recently as March. And just in time for you to catch some three-to-four foot waves on Thursday.
The A line was extensively damaged by Hurricane Sandy. In the six months since the storm hit, the Metropolitan Transit Authority has had to replace 1500 feet of subway tracks that were washed away by the storm surge and miles of decimated wiring destroyed by flooding. In addition, the MTA built a new sea wall along the elevated A line going across Jamaica Bay to the Rockaways to protect it from future damage.
In all, the restoration of service cost the city an estimated $650 million.
While the line was being repaired, those wishing to get to the Rockaways -- a spit of beachy land in the far southeast corner of Queens -- had to take the A train to Howard Beach, then transfer to a special bus line that went past JFK airport to the Far Rockaway-Mott Ave subway station in the Rockaways. To get elsewhere in the Rockaways, they had to transfer to the little-known H train, which the MTA resurrected for the first time in two decades. That's quite a trek if you're carrying a surfboard -- or if you live in the Rockaways and work in Manhattan.
BEFORE YOU GO
PHOTO GALLERY
Day Trips From New York