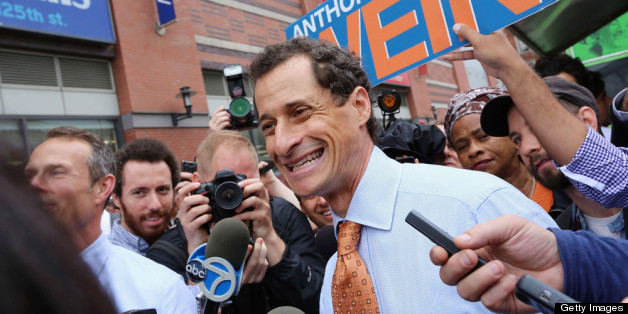 The enemy of my enemy is my friend, right? Right?
New York City mayoral candidate Anthony Weiner seems to think so. Or at least hope so. At a mayoral forum in Harlem's La Hermosa Christian Church organized by the Sojourner Truth Democratic Committee on Tuesday night, Weiner bragged about being on former Republican mayor Rudy Giuliani's hate list while he was on the city council, Politicker reports.
Weiner apparently gave Giuliani grief for failing to replace highly flammable paint in public housing projects around the city, contributing to the ignition of several fires in the 90s. At the forum, Weiner implied that he was the only city councilman to criticize Giuliani for this decision.
"And you remember there was one scrawny, skinny, undernourished city councilman standing up to Rudy Giuliani saying something's wrong here?" he asked, according to Politicker. "I don't know what kind of list he had -- but I was on it."
Weiner said that after he took Giuliani to task for a fire in a public housing project around Christmas one year, the mayor's office starting referring to him as "Ebenezer Weiner."
A New York Times story from 1995 supports Weiner's claim that he advocated the replacement of flammable paint in public housing projects around the time of the fires. On December 24 of that year, he held a press conference about the issue and called Mayor Giuliani's inaction "shameful."
Still, boasting about one's enmity with a relatively popular former mayor -- and presidential candidate -- seems like a strange political strategy. On the other hand, it's far from the strangest thing Weiner has ever done. It isn't even the strangest thing he did at the Sojourner Truth event. That medal goes to the incident recounted in the last two paragraphs of the Politicker story, which deserve to be presented without comment or abridgement:
But he did apologize to the group for arriving late–offering perhaps the most creative excuse in mayoral forum history: "It involved a 17-month-old, peanut butter and a cat," he said, later explaining that his son had somehow managed to put peanut butter on the cat's back.

"I'm not sure I'm ready to be mayor. I did not manage that situation very well at all," he joked. "My wife yelled at me, she just doesn't like the cat … And vinegar doesn't work."
BEFORE YOU GO
PHOTO GALLERY
2013 NYC Mayoral Candidates