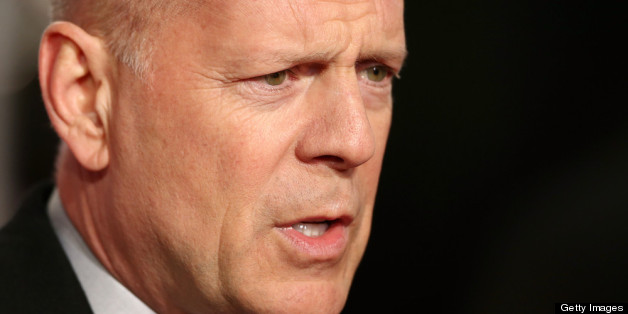 Some people shake off their home's cobwebs by redecorating and slapping up a coat of paint in the dining room. Not Mr. Die Hard.
Actor Bruce Willis, who back in February listed his Manhattan apartment at $11.65 million, has now has put his Beverly Hills mansion on the market at $22 million. When you need a change, you need a change, we guess.
His 11-bedroom, 11-bathroom Beverly Hills estate sits on almost a full acre of land. Built in 1928, it includes a media and music room, chef's kitchen and formal library. The grounds include a tennis court and resort pool, cabana and outdoor kitchen. Willis paid around $9 million for the 10,379-square-foot home in 2004, buying it from producer Alan Ladd Jr.
Willis owns other properties in the Southern California area and New York and is said to split his time between the two coasts, depending on his work schedule. But it's clear from the listing photos that Willis may be a big softy when it comes to New York. His kitchen's backsplash tiles seem to be a replica of the Spring Street metro stop in New York City.
The action star is most well known for his "Die Hard" franchise and will star in "Red 2," which opens later this summer. In March, he is set to start filming "Expiration," a movie in which he plays a poisoned hit man seeking an 11th-hour antidote to save his own life.

Photos courtesy of Realtor.com
PHOTO GALLERY
Bruce Willis Lists Beverly Hills Home