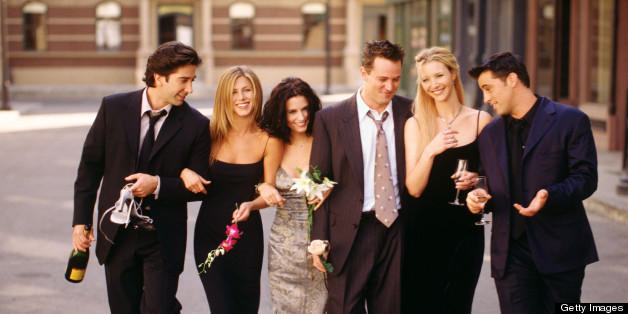 As a testament to the power of friendship -- and the power of "Friends" -- a group of graduating students at Elon University chose to celebrate their impending freedom by filming a shot-for-shot remake of the iconic NBC comedy's opening credits in front of the school's fountain.
Lucie Miller, Sarah Davenport, Alexis Deprey, David Gwynn, Will Anderson and Patrick Cunningham reenacted the scenes made famous by Jennifer Aniston, Courteney Cox, Lisa Kudrow, Matt LeBlanc and David Schwimmer over two nights, working for 15 hours in total, Gwynn told GoodMorningAmerica.com.
"We thought we could do it in one night, but we couldn't because the fountains shut off," Gwynn explained. "With all the set up, and going to thrift shops and getting the right clothes and putting it together and matching it frame by frame, the whole thing took 15 hours."
The students briefly considered attempting the feat without informing the school, but ended up doing things by the book and asking the vice president, who signed off on the idea and allowed the group to jump in the fountain -- something Gwynn said all of the students at Elon long to do.
And, in a fitting case of life imitating art, Gwynn revealed that "the people who play Rachel and Ross got engaged two days ago. So that was a cute little, 'Oh my gosh, it's real' moment."
Despite "Friends" ending almost a decade ago, the show remains as popular as ever. The Elon video is the latest in a long line of homages to the credits, which have included shows such as "Game of Thrones", "Battlestar Galactica" and "Arrow" receiving "Friends"-style openings set to the iconic Rembrandts song "I'll Be There For You."
Which other TV show credits do you think are worthy of recreation?
BEFORE YOU GO